Wincanton's focused community website, providing news and information including a full calendar
Headlines » Schools/Children » Bruton School for Girls
At Both A Level and GCSE Bruton School for Girls Has Excellent Results
Sunday 29 August 2010, 13:08
By John Baxter
A* Success at Bruton School for Girls
Students, teachers and parents at Bruton School for Girls are celebrating another year of excellent A level results, none more so than Deputy Head Girl Harriet Sharp who gained all four passes at A*, an outstanding achievement.
16% of Bruton's entries were awarded the new, challenging A* grade - more than double the proportion being forecast nationally - and the combined A* and A percentage was 45 per cent. The pass rate was 100 per cent for the seventh year out of eight. 72 per cent of the entries received a grade B or better and 97 per cent grade C or better.
Top individual performances were: Harriet Sharp of Shepton Montague near Bruton who gained her four passes all at A*, Kelin Chen from Shenzhen, China who achieved two A*s and three As, Rosie Bell, also of Shepton Montague, with two A*s and an A, Tallulah Pomeroy of Bruton with two A*s and a B and Head Girl Sophie George with an A* and two As. Others gaining at least two A* or A grades were: Kate Chandler of Stoney Stratton, Louise Dubuisson of Redlynch near Bruton, Charlotte Hole of Martock, Catherine Linney of Wanstrow, Rosa Nash of East Lydford near Somerton, Penny Rice of Pitney near Langport, Gemma Voysey of Sparkford, Hannah White of Glastonbury and Katherine Wong from Hong Kong.
Harriet will be taking up a place to read Medicine at Queens' College, Cambridge in 2011. Two years ago she gained all 11 GCSE passes at A*. Her A level success comes as the culmination of a year in which, amongst other achievements, she won the Prayer Book Society's national Cranmer award.
Kelin has a place to read Civil Engineering at University College London and Rosie will be reading Physiotherapy at Birmingham. Tallulah and Sophie, along with Lizzie French of Rode near Frome, have gained places at prestigious Art colleges. Almost all the girls have gained places at the universities of their choice.
"We are delighted with these A level results" said Headmaster John Burrough. "To have gained so many A* grades across seven different subjects from various areas of the curriculum is very pleasing. The students have worked extremely hard, supported by their teachers and families. They have been subjected to extra pressure created by the new A* grade on one hand and the shortage of university places on the other. The notion that students today have an easy ride is far-fetched. They pack in a great deal of valuable extra-curricular experience too. I congratulate all of them on their tenacity and achievements. Particular mention should be made of Harriet Sharp, whose results are phenomenal."


Bruton School for Girls Sixth Form students (L-R) Sophie George, Harriet Sharpe, Tallulah Pomeroy, Kate Chandler,
Penny Rice, Catherine Linney, Charlotte Hole, Toni Osoba, Gemma Voysey and Rosa Nash
Success Across the Board - GCSE Results
2010 is a vintage year for GCSE results at Bruton School for Girls. No less than 98 per cent of the girls achieved the benchmark five GCSE passes at grades A*-C including English and Mathematics.
Every candidate gained at least five passes at grades A*-C and 93 per cent gained at least eight passes at that level.
96 per cent of all the grades achieved in the school were C or above. A*s and As accounted for 52%.
Outstanding individual results were: Annie Fraser of Milborne Port whose 11 passes were all at A*; Emily Hughes of Wincanton with seven A*s and three As; Alice Parsons of South Cheriton with seven A*s and two As; Tina Mok from Hong Kong with seven A*s and an A; and Hannah Sharp of Gillingham with six A*s and three As.
Others gaining at least six A*s and As were: Sophie Baker of West Camel, Carina Birch of North Cheriton, Kate Borthwick of Frome, Isobel Carretta of Thornford, Sharon Cheng from Hong Kong, Hattie Ffooks of Lamyatt, Jessica Goodson of Milborne Port, Kirsty Hoskins of North Brewham, Emily Howard of Kilmington, Linda Leung from Hong Kong, Alison Linney of Wanstrow, Jennifer Mok from Hong Kong, Maria Phillips of Gillingham, Denise Powell of Barton St David, Stephanie Thayer of Hornblotton and Emily Tse from Hong Kong.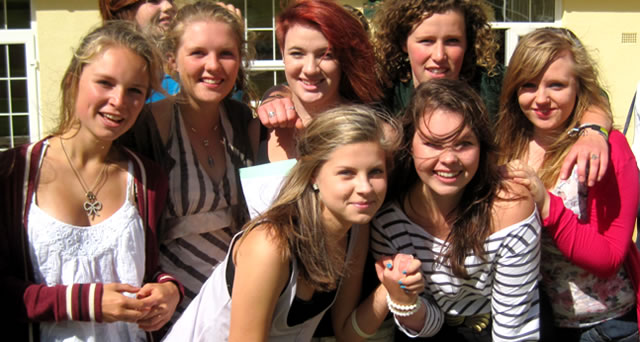 Headmaster John Burrough commented "These results are extremely pleasing. For such a high percentage to have gained the top grades provides further evidence of the value of a girls-only education. Their involvement and achievements outside the classroom have contributed in no small part to the girls' success.
"In highlighting the achievements at A*, we must not forget how hard-won many a B or C is. I pay tribute to the determination and talent demonstrated by the girls and congratulate them and their teachers."