Wincanton's focused community website, providing news and information including a full calendar
Headlines » Schools/Children » Wincanton Primary
Wincanton Primary Head Christine Glen leaves for Bahrain
Sunday 4 October 2009, 16:02
By John Baxter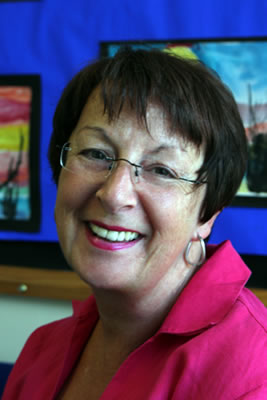 For the last six years Christine Glen has been Head Teacher of Wincanton Primary School, but at the end of the summer term she left to join her husband in Bahrain where they will both hold senior positions as advisors on school improvement in a groundbreaking project being set up by the Economic Development Board in that country. Before going she gave me this interview.
If her new post will focus on school improvement in Bahrain, certainly School Improvement has been at the heart of her work here in Wincanton. When she arrived standards in English and Maths were beginning to decline and children were entering school with weaknesses in their knowledge and use of sounds, writing and calculating.
Christine knew that the reasons for this decline were complex and were not going to be addressed with any quick solutions and the only way standards would be raised would be by the whole staff working together to meet the changing needs of the children through a very focused School Development Plan. To set this in motion Christine turned for help to the Local Authority and for three years the school had the support of specialists from the Leading Learning Programme, first in Maths, then for English and Assessment.
In order to achieve the challenging targets the school set, Christine was sure close teamwork and a new sense of moral purpose needed to be in place. The staff have responded very well to this and have worked extremely hard and the result has been that everyone knows what they are doing and why and that they are accountable. The result has been a steady rise in standards in maths (17% over 4 years)
Educational statistics can easily sound and look like gobbledygook, but without careful measurement and the collection of accurate data, there is no way of knowing if a particular approach is effective. In fact the figures show that Wincanton Primary has been undergoing a steady year on year improvement in the key areas of English, Maths and Science. The way this is measured is that an achievement level is set nationally for each year group, Level 4 being the national expectation for children at the end of Year 6. Five years ago attainment at Level 4 in Maths was 65%, this year 82%. In English the score was 81%, now it is 84%. In Science the score was 81%, now it is 92%. This is impressive.
Now the school is focusing on writing. The English score is divided between reading and writing and last year there was a very big gap between the two. That has now been greatly reduced, again a successful outcome. The school has received superb support from the Literacy and Assessment Consultants in order to achieve this.
Christine emphasised that these results are not just the result of good teaching in year six, the pupil's final year, but of what has been happening right through. This all means the figures show that Wincanton Primary is a steadily improving school.
Christine Glen is clearly going to miss working in a school which she emphasised "is not my school, it's our school", a school which has clearly a happy, relaxed atmosphere where, even as I was interviewing her, small girls in the playground came to the window of her study to smile and wave to her and where she says the infectious enthusiasm and willingness to get stuck in that the pupils constantly show has been something she has really enjoyed.
In addition she pointed out the school has in this past year won three prestigious awards. Healthy School Status has been achieved through teaching about healthy eating and the introduction of a hot midday meal brought over from the kitchens at King Arthur's. This has resulted in an initial take up of 70 meals per day going up to 101 in three weeks. Then there is the Sports Mark Award in recognition that as a result of collaboration with King Arthur's all pupils now have two hours a week of high quality Physical Education and finally the school is one of only a small group of schools in Somerset to receive the SCITT award. That is for School Centred Initial Teacher Training when staff support and mentor trainee teachers who have reported back on the excellent support and help they have received while in the school.
So what next for Wincanton Primary? Christine was very happy to tell me that the Governors have appointed Graeme Wilson, the present Head of St Nicholas' School Henstridge and that the school's Deputy Head, Sarah Martin will be acting head this Autumn term until the new head comes in January.
So Christine Glen feels she is leaving the school in good hands and is sure it will continue to build on its successes. Still many will feel that Bahrain's gain will be Wincanton's loss.
John Baxter