Wincanton's focused community website, providing news and information including a full calendar
News » Nature » Carymoor Environment Centre
A Butterfly Summer: Monitoring Butterflies at Carymoor
Friday 13 February 2015, 17:57
By Julian Rawlins
Carymoor Environmental Trust was set up in 1996 by a small group of enthusiasts who set about turning 100 acres of capped landfill at Dimmer, near Castle Cary into an inspirational nature reserve which is a haven for wildlife of all kinds. Children and other groups come to Carymoor to experience nature first-hand, contrasted with the nearby working landfill site - an eye opener for all ages.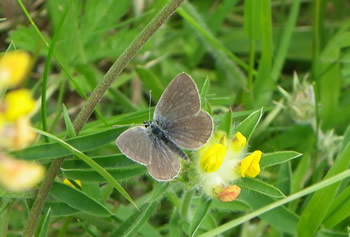 Volunteers help us to monitor wildlife in the reserve, including our 'Butterfly Transect Walker' Julian Rawlins, who reports on his 2014 results:
"… the bee has quit the clover,
and your English summer's done."

L'Envoi, by Rudyard Kipling
But what a summer it has been for our butterflies, about which there has been so much concern over the past few years. Overall numbers are up by 24% on last year on the Carymoor recording transects during the period 1 April to 30 September, although the number of species recorded fell from 28 to 26. We didn't record the Small Heath, Silver-washed Fritillary or Brown Hairstreak, although the latter two were almost certainly still present but not on parade at the correct times and places! To make up for it, the Small Blue was back on the list after an absence of two years, which was very exciting, although only two were seen.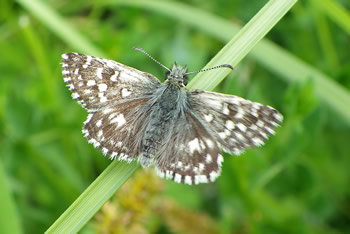 Of the 26 species recorded, 16 showed an increase on last year's numbers, while the other ten fell. The winners this year were the 'little skippers' – that is the Small and Essex Skippers, which are almost inseparable unless you have a very good view of the underside of their antennae (and very good eyesight!).
These butterflies, which are on the wing in July, increased by over 120%, with 1,286 recorded. Grizzled (and Dingy) Skippers were also up - great news as the Grizzled Skipper is rare in Somerset and is subject to a special conservation programme. Other big winners were Small Tortoiseshells, Gatekeepers (including a rare variation) and Red Admirals.
There were losers, too, especially among 'the Whites', with the Large (or cabbage) White, so hated by gardeners, down by a whopping 79% and its smaller cousin down by 65%, - so perhaps we shall all have better crops of brassicas this year! The poor weather in August is thought to be responsible for this decline.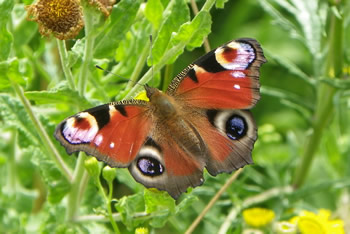 Strangely, the Green-veined White, the other common white butterfly, increased considerably. And whereas country-wide the Peacock butterfly topped the charts this year, at Carymoor it was down by 42% and in 9th place. Only one Holly Blue was recorded, but this species is noted for fluctuations in its population, so hopefully we shall see more next year.
Given another good summer this year our butterflies ought to do well. Too find out more about Carymoor visit www.carymoor.org.uk. If you would like to know more about butterfly conservation in Somerset, please contact Julian Rawlins at .