Wincanton's focused community website, providing news and information including a full calendar
News » Health & Fitness
Wincanton's Lifesaving Defibrillator is Ready for Use
Monday 10 August 2015, 22:11
By John Smith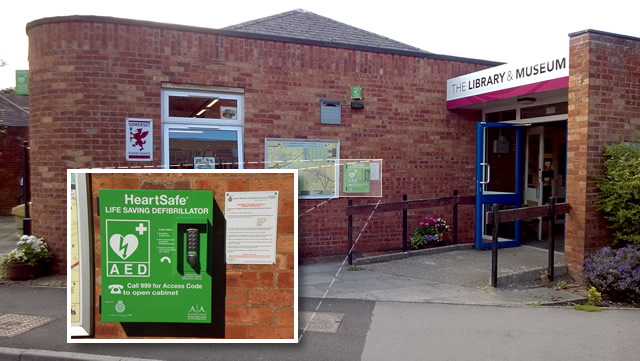 Brue Valley Rotary Club has raised the finance to provide a defibrillator unit for the people of Wincanton, providing an essential resource to be used in life-threatening circumstances. A defibrillator is a compact machine that administers an electric shock to stop the heart fibrillating and restore a normal heart rhythm.
Recently a man attending a funeral in the local Anglican Church had a heart attack. This unit could have been in use on site within minutes instead of waiting for the air ambulance. The availability of a piece of equipment like this could make the difference not only between life and death, but also in the severity of potential brain damage incurred as a result of prolonged oxygen deprivation.
The unit in Wincanton is secured to the east-facing wall outside the entrance to the library. The positioning of the unit had to be carefully planned. The unit would be more visible on the south-facing wall, but the additional summer sun exposure increases the risk of the unit overheating, which could render it unusable.
Roger Lowe, the Brue Valley Community Rep, himself a Wincanton resident, was particularly pleased to have been able to oversee this important project on behalf of Brue Valley. Wincanton Town Council has taken on the responsibility of inspecting it regularly to keep it fit for purpose.
In the event that the defibrillator is needed, dial 999 in the normal way. Emergency Services will give you the code to unlock the cabinet to access the defibrillator and guide you in its usage whilst an ambulance makes its way to the scene. There is also an instruction poster by the cabinet. Though the thought of using the machine on a real person is likely daunting, there are built in safety features that mean if the machine detects a heartbeat, it will not administer a shock.
Having supplied the first defibrillator to Castle Cary in October 2014, Brue Valley invited South West Ambulance to talk to local residents about using the unit. It was at this meeting that the plan was hatched to supply units to both Bruton and Wincanton. Bruton went live in June 2015, and Wincanton followed in July, so all three towns now have defibrillators live on the emergency 999 system.
Deciding to fund a defibrillator is easy. Coming up with the funds is a tad harder, each unit coming in at around £25,000 £2500. Fundraising for the Wincanton defibrillator started in earnest In January 2015 with a Wassail in Yarlington. Roger said that their efforts were generously supported by many, including the Friends of Wincanton Community Hospital, Wyke Farms, and the Stags Head Inn Yarlington.
He hinted at the possibility of a special seminar in the near future, to train people who may be interested in learning how to use the equipment when needed. Roger will let us have the information to publish in due course.