Your source for Wincanton's latest news, views and information, covering Wincanton and surrounding towns and villages
Headlines » Health & Fitness » Wincanton Community Hospital
Wincanton Community Hospital Staff Join Global Hand-Washing Campaign
Monday 16 May 2011, 12:47
By Paul Courtney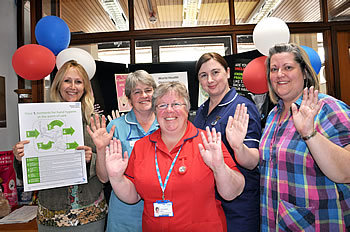 Nurses and healthcare staff at Wincanton Community Hospital are leading by example when it comes to maintaining good hand hygiene and preventing the spread of infections.
On Wednesday 5th May 2011 every member of staff at the hospital, as well as Somerset's thirteen community hospitals, joined the World Health Organisation's annual infection prevention campaign called, "SAVE LIVES: Clean Your Hands".
Somerset Community Health's Infection Prevention and Control Team handed out posters and information leaflets to hospital staff, patients and visitors and gave talks on thorough hand cleaning using the "Five moments for hand hygiene" technique.
Claire Andrews, Matron at Wincanton Community Hospital, said, "All our staff take infections very seriously and we are committed to keeping our patients as safe and healthy as possible.
"The 'Clean Your Hands' campaign reinforces for our staff the importance of hand hygiene when caring for you, our patients. All our staff take hand hygiene very seriously but if you are worried that a staff member caring for you may not have washed their hands, please remember it is OK to remind them. We welcome your help in keeping you safe."
NHS staffs follow the 'Five Moment' hand hygiene criteria, washing their hands:
Before contact with a patient
Before providing personal care to a patient (eg, cleaning a patient)
After exposure to the patient's body fluids
After contact with a patient
And after contact with the patient's surroundings
Jacqui Cross, Senior Infection Prevention and Control Lead with Somerset Community Health, said: "Hand hygiene is the simplest and most effective solution to reduce both the spread of infection and multi-resistant germs and to protect patients from health-care associated infections. Carried out in the right way, at every point of patient contact we can reduce the risk of cross infections. Our hospital staff are at the frontline of patient care provision and their first priority is to ensure patient safety".