Wincanton's focused community website, providing news and information including a full calendar
News » Health & Fitness » Wincanton Health Centre
The Die is Cast and the Turf is Cut - New Health Centre
Thursday 10 February 2011, 18:35
By John Baxter
The New Barns Farm site on Dykes Way, Wincanton, saw the first step in building a new two million pound Health Centre. Planned for Wincanton and the surrounding towns and villages it was the chilly setting for a turf cutting ceremony. Dr Marc Fellows, Senior Partner in the practice, introduced the proceedings with thanks to representatives of NHS Somerset and others who have facilitated and worked on the project so far. He also said, "We are delighted that work will be starting at last on our new building. We have been working on this project for many years and finally we are now seeing it come to fruition. The NHS is facing a huge change over the next few years and, in our new premises, we will be able to adapt to face the challenges ahead. We feel that this will be a very positive move for us and our patients."
The Health Centre is being built by Brookvale Homes (SW) Ltd and is expected to be completed by the end of 2011.
The centre will be jointly funded by Wincanton Healthcare Limited and NHS Somerset, and should provide a significant improvement in the health facilities that will be available locally. This is because it has been designed to provide more consulting and patient treatment rooms, a dedicated minor operations room with a recovery room, an on site anti-coagulation clinic (managing patients at risk of blood clots), family planning clinics and health promotion groups.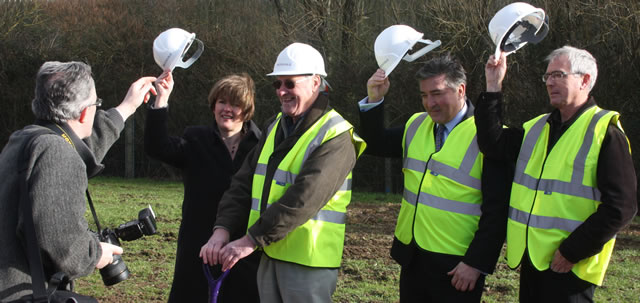 Decked out with helmets and jackets for the press are Janet Loe, Practice Manager, Len Grant, representative of the Patient Participation Group, Lou Evans, non-executive director of NHS Somerset and Dr Marc Fellows.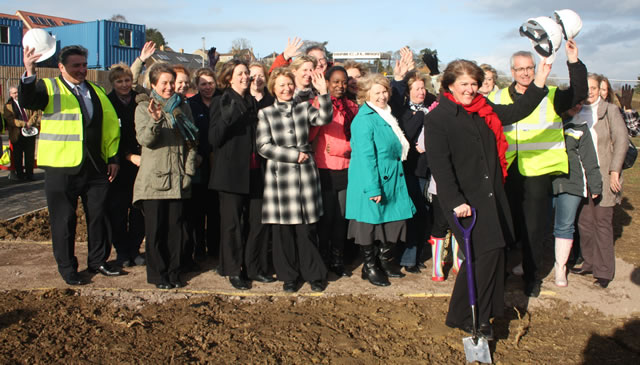 Well wrapped up against the cold the Health Centre staff raises a cheer and a smile.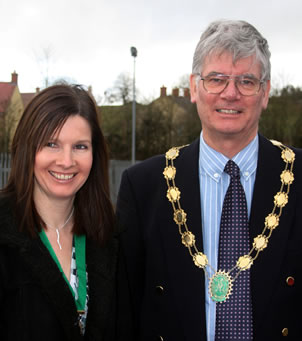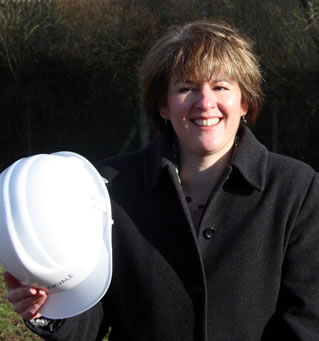 Mayor Richard D'Arcy with his daughter Hayley Brewer (left) and Janet Loe (right)
With the ceremony completed guests were invited to a reception held in the staff canteen of Rochford Garden Machinery Ltd which is just across the road in Wincanton Business Park.
In an interesting report by Simon Hancock of BBC Somerset the Director for Primary Care Development in NHS Somerset, David Slack, was asked the key question as to where the money for this centre is coming from. He explained that the last Labour government had increased NHS funding by 10% after a review in 2008 and NHS Somerset had been able to set about building some 18 new and 34 replacement health centres across the county and this money had been put aside and remains available for this important project - despite all the cuts that are happening.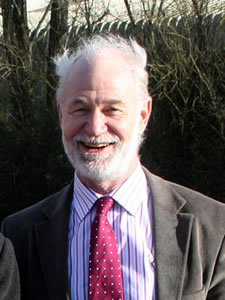 This appears to confirm what we have been led to believe, that if advantage was not taken of the money that the (soon to be abolished/reorganised) Primary Care Trust currently has and if the move to this new site had not gone ahead, the alternative would have been no new health centre at all.
Also present was Portfolio Holder and Councillor Ric Pallister representing South Somerset District Council, who we learned had come because Councillor Tim Carroll, the Leader of the Council, had just been admitted to Yeovil Hospital with a painfully fractured vertebra - a consequence of falling when we had all that snow. He has our sympathy and best wishes for a speedy recovery.