Wincanton's focused community website, providing news and information including a full calendar
News » Health & Fitness
West's workout is a HIIT!
Thursday 28 February 2019, 23:42
By Alice Glover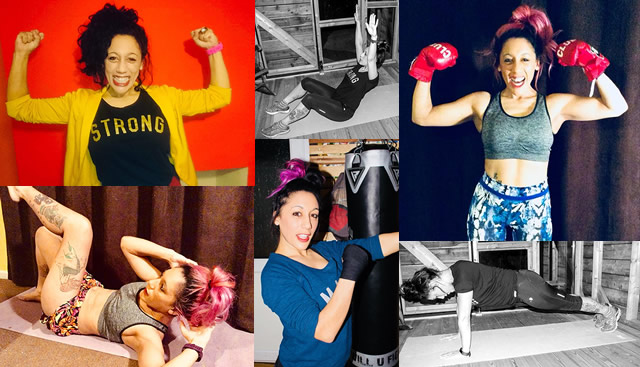 Never mind mindlessly toing and froing on a rowing machine for hours on end; get fit in one hit with High Intensity Interval Training!
As its name suggests High Intensity Interval Training, or HIIT, alternates short bursts of heart-thumping, maximum effort exercise with brief periods of active rest to allow your body to partially recover. It has been clinically proven to be more effective for weight loss than traditional methods such as swimming and cycling, as not only does it elevate the heart rate, it also speeds up the metabolism helping you to burn fat faster, and for up to 24 hours after you have finished exercising! In addition it builds endurance for other athletic pursuits and when combined with a nutritious diet it supports you in your quest for optimum health.
A staunch advocate of the regime is fitness coach and mum-of-two, Jay West. After the birth of her first child, Willow, she started training with her friend in a bid to shift some of that motherly baby weight. This inspired her to help others achieve their personal fitness goals and so she decided to become an Exercise to Music Instructor. HIIT was to be her speciality as after seeing such impressive results with her own weight loss in so little time, she was eager to share this quick-fire routine.
She completed an arduous online course with Active IQ and once she had received her Level 2 qualification, she set up her very own HIIT class that runs on a Monday from 7:30-8:30pm at the Unionist Hall in Bruton, for £6.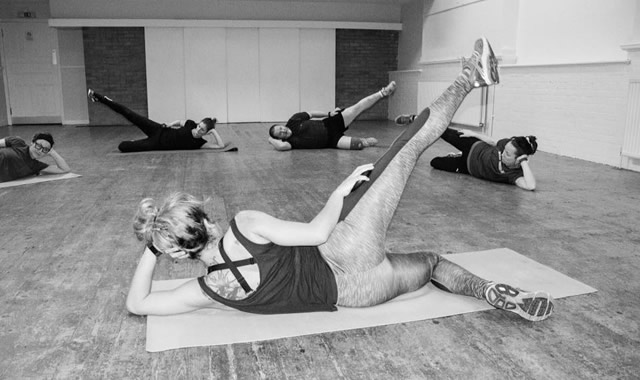 Fascinated by this recent phenomenon I was invited to observe one of her sessions. It started with a brisk warm up in preparation for the somewhat gruelling set of exercises ahead! This included aerobics such as 'high knees' (think jogging on the spot whilst lifting up your knees) coupled with a static exercise like a 'plank' that is carried out on a floor mat. The standard 'forearm plank' looks like the start of a 'press-up' but you can either extend your forearms or rest on your elbows. It is ideal for strengthening 'core' muscles (i.e. the abdominals, hips, bottom, upper thighs, arms and shoulders).
The session also included 'low plank lateral hop-overs' where one person assumes the original 'plank' position and their partner jumps over them. These were followed by pelvic thrusts that specifically target the glutes and hamstring muscles. (However of course to avoid injury, a lower intensity version of each exercise was demonstrated throughout).
I could see her clients' lovely faces glowing with exhilaration as this 'all pain for all gain' workout really put them through their paces, stopping only momentarily for a glug of water! After all their hard work, the session finished with a cool-down period that focussed on stretching, together with more hydration. Jay even rewarded her clients with a little fruit and vegetable smoothie that she concocted herself!
As a mother, Jay is very sympathetic towards mums with their babies and toddlers who struggle to retain their former fitness, and has tailored a low impact routine specifically for their needs. Sling Fit is directly aimed at those who want to exercise with their children in a sling or a pram and will also take place at the Unionist from 5th March at 9:15am, and is also just £6.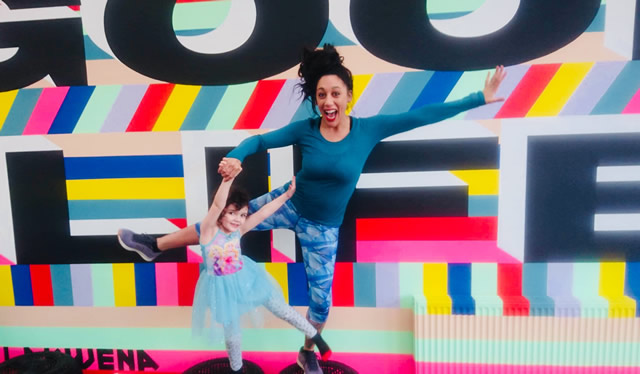 For an even softer approach there's Mini Move that takes place every Thursday morning in the FMLY Store from 11am-12pm, for only £4. This involves taking 'baby steps' in introducing children to the importance of exercise in maintaining a healthy lifestyle. It's an uplifting experience for both parent and child and an opportunity for them to bond as they share simple and nurturing dance moves.
To compliment her programme Jay devises scrumptious batch meals containing her super nutritious seed mix that is also available to buy. 50 grams costs just £2!
Having realised that not everyone can make her scheduled classes, she also offers one-to-one tuition during the week, and additional HIIT and circuit training on a Saturday morning in her private gym that was built by her skilled Carpenter husband, Shy.
It is apparent through her dedication to her clients and helping them hit new heights of fitness that Jay means business! Through HIIT, she has developed a thoroughly holistic approach with a view to making fitness exciting and rewarding for all!
Contact Jay via her HIIT Facebook page, or on 07749910574.
Alice Glover
Photography by Sean Kelaart