Wincanton's focused community website, providing news and information including a full calendar
Headlines » Health & Fitness » Sarah Gibson Optometrist
Sarah Gibson Optometrist Wins Business Innovation Award
Tuesday 10 July 2012, 11:44
By Dorothy Chandler
The very first Blackmore Vale Business Awards were held on Thursday 28th June at the George Albert Hotel in Evershot. As a Wincanton business, we were thrilled to be shortlisted and even more delighted to win the Business Innovation of the Year award.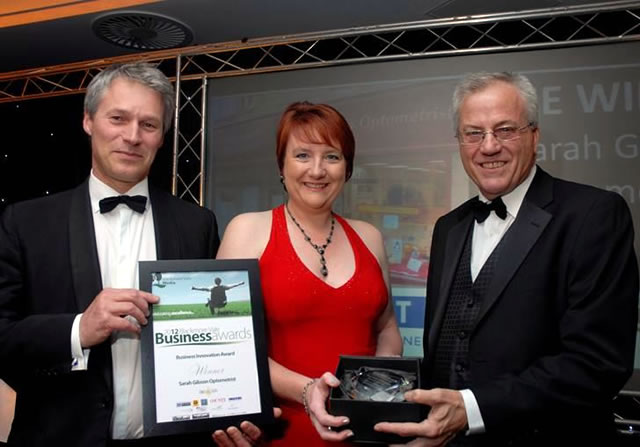 Picture courtesy of Blackmore Vale Media
As part of our award entry, we had to demonstrate how the introduction of a new product had made a significant contribution to our business. With our recent investment in Optical Coherence Tomography (OCT eye scanning) plus the introduction of iPads to help our patients choose their glasses, we were spoilt for choice!
Having OCT facilities in our practice puts Sarah Gibson Optometrist in a bracket with less than 15% of UK High Street Opticians and we think this definitely gives us an edge. Like an MRI scan for the eyes, OCT allows us to see below the surface of the retina to pick up early changes. This technology helps us to detect diseases such as glaucoma and macular degeneration, the two leading causes of blindness in the Western world. Early detection means earlier treatment, which can only be a good thing.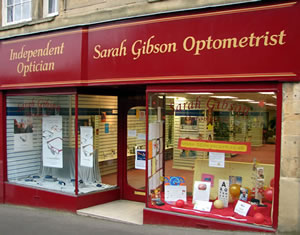 It is important to us that we challenge perceptions and provide a service that is above and beyond what our patients expect. In addition to the consulting room, we have brought the latest in eye care technology to the frame selection process. Using iPads to help patients choose their next pair of spectacles is fun, convenient and allows them to decide which frames they'd like in one visit. The specialist software on our iPads means we can take short video clips of a patient's frame choices; this is ideal for those with poor eyesight who cannot normally see the frames without their habitual vision correction. We can also send the video clips directly to Facebook for live comment by friends and family.
We are very proud of the technology developments we have implemented in the practice in recent times. However, we believe our approach to excellent customer service is a key part of our winning formula. As our patients know, it is important for us to provide the personal touch, making all visitors to the practice feel valued and taking the time to offer individual care. Our eye care scheme, Eyeplan, gives our patients access to our services as often as they need them and offers them real value on their frames and lenses - another example of our different approach to eye care that puts the patient first.
It was a great feeling to win the Business Innovation of the Year award and to be recognised for our work in the community. We would like to take this opportunity to thank all our patients for their support and we hope to continue to provide a first class service.
Sarah Gibson Optometrist is a small independent opticians in Wincanton, which prides itself on providing the highest standard of eye care and a wide range of eye wear. For more information, please visit www.sgoeyecare.co.uk.