Wincanton's focused community website, providing news and information including a full calendar
Headlines » Health & Fitness » Sarah Gibson Optometrist
Sarah Gibson Has Acquired a New High Tech Optomap Scanner
Tuesday 1 June 2010, 15:45
By Jessica Stapleton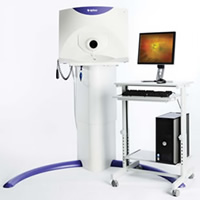 Every five seconds one person in the world goes blind. A child goes blind every minute.
80% of blindness is avoidable.
People over the age of 65 have a 30% chance of developing age macular degeneration. It is the leading cause of blindness for those aged 65 and over.
Approximately 2.2 million Americans over the age of 40 have Glaucoma, yet half are unaware they have the disease until their sight is compromised.
Your Vision Is Our Focus
Here at Sarah Gibson Optometrist we pride ourselves on offering exceptional service and staying ahead in the world of optics. This is why we are pleased to tell you that we have just been able to install this instrument which is the latest technological development in retinal photography. The result is that the retinal view quality Sarah will have will be a significant improvement over that of many other optometrists...
| | |
| --- | --- |
| Their View | Our View |
That's a scary image, but our point is that we will be able to see so much more with the Optomap. The Optomap takes a photograph of the back of your eye allowing Sarah to see your retina clearly. This digital scanner has been trialled and tested with great success and the results are impressive.
"Using normal digital techiniques examining the retina is like using a torch in the dark. Using Optomap is like turning on the lights."
Richard C Arnold, Optometrist and Contact Lens Practitioner.
The Optomap will allow Sarah to view 200 degrees of your retina, which is FIVE times more than the standard digital retinal examinations today. Sarah won't need to dilate your pupils to obtain a clear image which means the whole procedure is slightly quicker. All scans will be kept as a permanent record of your eye's health.
5 Reasons To Opt FOR The Optomap
Advanced digital imagery
High definition photographs showing almost the entire retina
Permanent record of your eye's health
Early detection of diseases
It's local – available here at Sarah Gibson Optometrist, Wincanton!
"The Optomap is a unique clinical tool giving us the opportunity to give patients the highest level of clinical care."
Contact us today by calling 01963 34333, or visit www.sgoeyecare.co.uk