Wincanton's focused community website, providing news and information including a full calendar
News » Health & Fitness » Sarah Gibson Optometrist
Sarah Gibson Optometrist is celebrating 15 years in business!
Monday 29 April 2019, 17:06
By Allie Bailey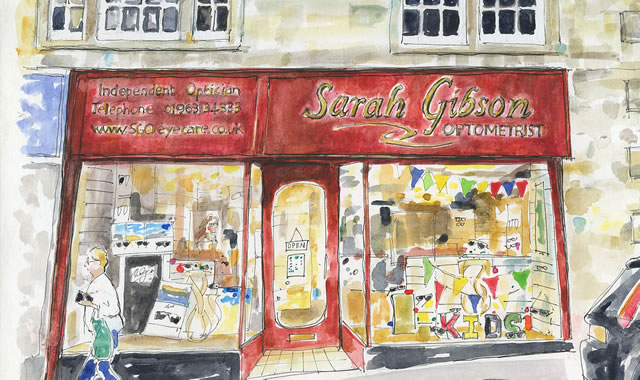 Sarah Gibson Optometrist, in Wincanton's Market Place, is proudly celebrating 15 years in business, making it one of the longest-running high street businesses currently operating in the town! To mark the occasion, the shop has been modified and refitted, and Sarah and her team invite you to the official unveiling this Wednesday 1st May 2019, beginning at 12 noon.
"I cannot believe it is 15 years since I took a huge leap of faith and bought the practice from the chaps who opened it in 1996. Having worked in the practice as the principle optometrist since it opened, I knew Wincanton was a great town to work in, but I had no idea if I could make the practice work with me at the helm.

Running a business is an altogether different ball game to being employed and it has been a steep but generally enjoyable learning curve. There are obviously days when I wonder what madness overtook me when I said, "I want to run this by myself", but then I get to work and I am greeted by my wonderful staff and my equally wonderful patients and I think, "yes, I am doing the right thing here". I get to make a significant difference to people's lives and that, for me, is what it is all about.

The refurbishment was all about bringing the front of house displays up to date and making our customer experience even better than it already is. I hope to be here for at least another 10 years, but don't ask me to do another major refurbishment! Can I get back in my consulting room, where I belong, so I can have a rest please?"

- Sarah Gibson
In addition to the new-look practice, celebrations will continue with 15 days of raffle giveaways. Tickets will be available to buy from the practice from the 1st-15th May, with all proceeds going to Guide Dogs for the Blind. Prizes include sunglasses, prescription lenses, wine, chocolates and much more, all generously donated by our suppliers. Sarah will announce a winner each day from the 15th May on her Facebook page. Be sure to give it a like to be kept up to date on winners and news form the practice.
SGO will be showcasing the whole range of handpainted frames from Matisse and there will be special offers, drinks and nibbles available throughout the afternoon.
"We hope you can join us to take a look at our new look practice on 1st May. Our community, patients and their families are at the heart of everything that we do, and we look forward to celebrating 15 years in business with you in person!"
Sarah Gibson Optometrist
Commerce House
Market Place
Wincanton
BA9 9LP
sgoeyecare.co.uk
01963 34333