Wincanton's focused community website, providing news and information including a full calendar
Headlines » Health & Fitness » Parkinson's Group
Parkinson's Awareness Day at Morrisons
Friday 22 April 2011, 12:00
By Steve Beech, John Baxter
Since setting up the Wincanton and Area Parkinson's Group last year under the chairmanship of Steve Beech the group has grown steadily so that it now has 28 members. Offering friendship and support to patients, carers and families they meet monthly for talks and socialising in the Sun Room at the Memorial Hall at Yarlington Sheltered Housing Scheme on Common Road, Wincanton.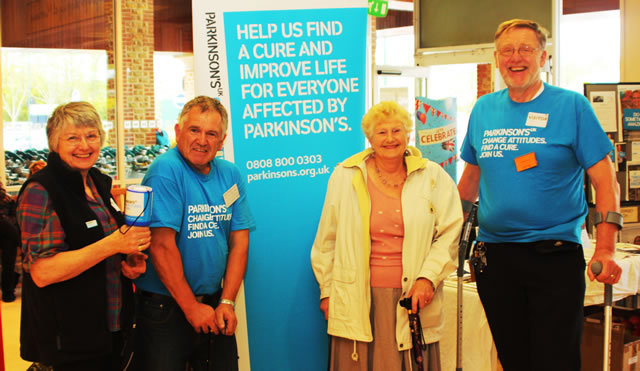 This day at Morrisons was aimed at raising money for research and making more people aware of the existence of the group and to encourage greater awareness and understanding of this very debilitating disease and they had come with an impressive information display stand together with posters, leaflets and handouts.
Steve was joined by Andy Pollard, Julie Verney and his wife June. They collected money for Parkinson's Research and were very heartened by the generosity of people passing by and the interest they were shown.
Steve adds this: I would like to mention the Management at Morrison's Supermarket. Mr Kim Barter and the staff who were very accommodating to our requirements. This was our very first time we have held anything as group in Public.
Also I would like to mention the very generous nature shown towards Parkinson's UK, by the general public who were shopping at Morrison's in Wincanton. We had many people who asked us about Parkinson's and a large number stated that either they had a relative with or they knew people who had this complaint.
We have also just managed to count the money from the collecting tins this afternoon (Sunday), and I am very proud to announce that we collected the grand total of £548.54p for Parkinson's UK. Once again a VERY BIG THANK-YOU to all the residents and shoppers of Wincanton who donated so generously to Parkinson UK, and also to Wincanton Window for publishing our event.