Wincanton's focused community website, providing news and information including a full calendar
Headlines » Health & Fitness » Sarah Gibson Optometrist
NEW faces, NEW equipment, NEW opening times - Same GREAT service
Thursday 8 March 2012, 13:59
By Sarah Gibson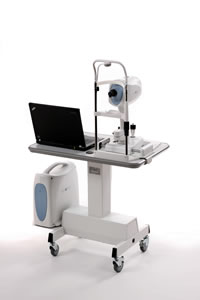 As many of you know, 2011 was a difficult year for Sarah Gibson Optometrist, especially where staff was concerned. We've seen several people come and go but at last we have a wonderful little team of professional happy people, plus some exciting new gadgets, gizmos and services to help us take even better care of your eyes and eyesight.
To steal a line from a well known store, "This is not just any Optometrist; this is Sarah Gibson Optometrist."
So what's new at Sarah Gibson Optometrist in 2012?
In short:
New staff; Helen, Ian, Jemima, Anita and Stuart have joined Sarah and Jess
New Opening Hours: Now 6 days a week with late night Tuesday to 7.30pm
New Equipment: OCT scanner, frame tracer
New Services: Dry Eye Assessments
New Frames: Vera Wang and Nina Ricci with more coming soon
For more detailed information on these new and exciting goings-on just read on. Or why not pop in for a chat? We would be delighted to see you and explain just what we can do to help you look after your eyes and eyesight. You can find us in Market Place in Wincanton, about 20 yards from the Post Office next to Jerry's Electrical.
You will still see the familiar faces of Sarah and Jess but we have added five new faces to help keep the place running smoothly. Ian and Helen have been with us for nearly seven months and Jemima three months, and with their help we have been able to make the practice even more efficient.
We also have Anita, a qualified Dispensing Optician and Stuart, a qualified Optometrist, who also works at Bristol Eye Hospital. With their expertise and Helen in charge of reception we are now opening on Mondays 9.00am - 5.30pm, and appointments are available now.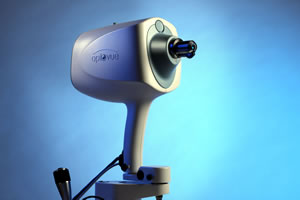 As our existing clients know, the team at Sarah Gibson Optometrist is dedicated to providing the highest standards of eye care, so it won't surprise some of you to learn that we have made some exciting additions to our already impressive range of clinical equipment and services.
In 2011 we invested in an OCT scanner which has been likened to an MRI or CT scan for the eyes. It allows us to see the macula in microscopic detail, so that we can pick up the earliest signs of macula degeneration, and also to perform several scans which can lead to earlier detection of glaucoma. Picking up the earliest signs of these conditions means that treatment is often more effective and could stop you losing your eyesight.
If you want any additional information on macula degeneration or glaucoma please go to our website at www.SGOeyecare.co.uk or click this link to go directly to the "About Eyes" section.
OCT scans are now available as part of our 40 minute enhanced eye examination and are taken in addition to the retinal photographs that we have been taking for the past eight years. Some opticians are only just putting in retinal cameras!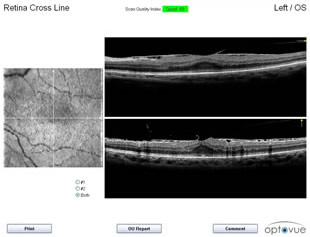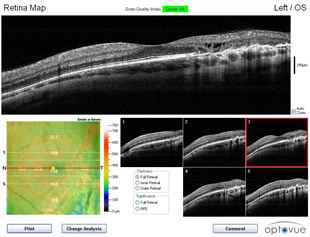 Unfortunately OCT scans are not part of an NHS sight test, but the cost of an enhanced eye examination starts from only £25 for NHS patients and £55 for private clients. That's less than a decent haircut!
On the spectacle dispensing side of things we have installed a new frame tracer, which allows quicker and more efficient ordering. This means that your new spectacles will arrive that much quicker. It also means that if you want to re-use your existing frame you may not have to be without them. The lenses can be ordered pre-cut for certain types of frames so we just let you know that they are here and fit them while you wait.
We are also now registered as a Dry Eye Specialist Practice with Spectrum Thea, one of the leading manufacturers of therapeutic eye-care products, and we have a wide range of products to help with irritated, sore, gritty or watery eyes.
In order to make sure we offer the right advice we offer 40 minute Dry Eye Assessments for only £45. If you suffer from irritated, sore, gritty or watery eyes ask about a specialist assessment. Dry eye problems are becoming increasingly common but most people don't realise that, with the right advice, they could eliminate the discomfort completely.
And to help spread the cost of your eye-care don't forget that we offer Eyeplan and Eyeplan Complete. You could walk out of the practice with a year's worth of inclusive eye-care and a brand new pair of spectacles for only £17 per month. That's cheaper than a new smartphone!
If you would like to book an appointment or just want to know more about the exciting developments at Sarah Gibson Optometrist please call 01963 34333, or pop in.
Our NEW opening times are as follows:
| | | |
| --- | --- | --- |
| | Morning | Afternoon |
| Monday | 9.00 - 1.00pm | 2.00 - 5.30pm |
| Tuesday | 9.00 - 1.00pm | 2.00 - 7.30pm |
| Wednesday | 9.00 - 1.00pm | 2.00 - 5.30pm |
| Thursday | 9.00 - 1.00pm | 2.00 - 5.30pm |
| Friday | 9.00 - 1.00pm | 2.00 - 5.30pm |
| Saturday | 9.00 - 1.00pm | CLOSED |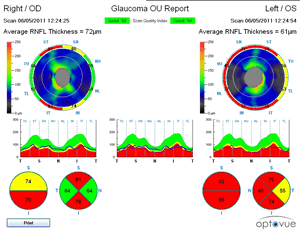 Don't forget our other services:
Chromagen lenses for reading difficulties and colour vision problems
Contact Lens fittings and aftercare appointments
Eyeplan for all inclusive eye-care and discounted spectacles
Sports Goggles and Sunglasses
ACES - emergency eye-care scheme
We look forward to seeing you soon.