Wincanton's focused community website, providing news and information including a full calendar
Headlines » Health & Fitness » Sarah Gibson Optometrist
MP Checks Out 'Sight-Saving' NHS Scheme in Wincanton
Friday 23 March 2012, 11:19
By Paul Courtney
Frome and Somerton MP, David Heath, took time to visit Wincanton Opticians, Sarah Gibson Optometrist, on Friday 9th March to see the benefits of a new NHS urgent eye care service.
NHS Somerset is working with optometrists in Somerset to extend their NHS funded eye assessment service known as ACES (Acute Community Eye Care Service).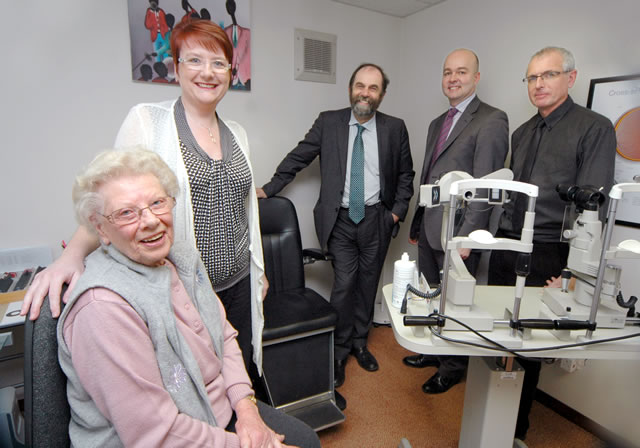 Mrs June Goddard, Sarah Gibson, David Heath MP, Mr Charles Greenwood and Dr Marc Fellowes
The free service is for local NHS patients experiencing a recent eye problem such as reduced vision, red or painful eyes, flashes or floaters, double vision or watering of the eye. Patients need to be registered with a Somerset GP and can be sure their problem will be diagnosed by skilled and accredited optometrists.
Sarah Gibson Optometrists in Wincanton is just one of many optometrists participating in the scheme which is already helping patients with sudden eye problems or concerns to get the treatment and advice they need.
Patients like 88 year old June Goddard from Yarlington, near Wincanton. June recently benefited from the ACES service. Following cataract surgery she found her eye became painful and inflamed. However, a quick visit to Sarah Gibson Optometrists in Wincanton meant she was seen within an hour; had her problem diagnosed and was rapidly referred onto an eye specialist at Yeovil District Hospital.
"The ACES services was so quick and reassuring", said June. "Your sight is precious and I depend upon my sight to enable me to continue to drive my car. I was so pleased to know I could have my eyes checked for free and delighted when I found out it wasn't too serious."
June's advice to anyone who finds they are suddenly experiencing a problem with their sight is to get it checked out immediately.
"The NHS ACES scheme has already proven to be a sight-saver for a number of local patients and in most cases you will be seen within 24 hours. It's funded by the NHS and aims to help people get rapid access to treatment or the information they need", said Wincanton Optometrists, Sarah Gibson.
The ACES service is free to any patient registered with a Somerset GP and is provided by skilled accredited optometrists through opticians participating in the new scheme.
Patients can access the services by either enquiring at local optometrists or by asking for details from their GP. Appointments are available during normal working hours and patients will normally be seen within 24 hours.
Optometrists participating in the ACES scheme will have the ACES eye logo on the door. Details of participating practices can also be found on this NHS Somerset web page.