Wincanton's focused community website, providing news and information including a full calendar
News » Miscellaneous
James Phillips - From King Arthur's to Research Scientist
Tuesday 2 September 2014, 12:55
By John Baxter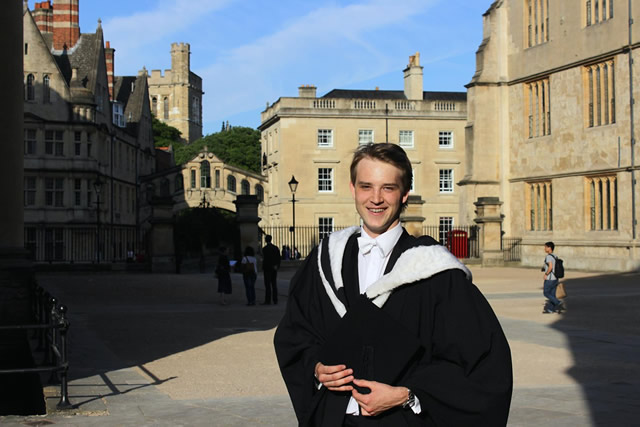 It is now four years since I wrote in the WW about James Phillips, who went to King Arthur's school in Wincanton, culminating in his GCSEs at King Arthur's. He then went on to the Sixth Form at Bishop Wordsworth Grammar in Salisbury and from there won a place at Oxford to study Physiological Sciences at Exeter College.
So what has been happening to him since then?
On getting to Oxford James had no doubts about what he wanted to do. His aim has always been to become a research scientist in neuroscience; that is the multi-disciplinary study of how the brain functions and consciousness develops. As such it is one of the most challenging and important areas of study in the whole of contemporary science. What makes it so challenging is that it requires the ability to work across subjects and use cutting edge mathematics, chemistry, computer science engineering, linguistics, medicine, philosophy, physics, and psychology. It is so important because it is the key to us understanding more about who we are and how our mysterious mind/brains work.
Studying neuroscience means working with other specialist scientists and getting to understand just what they are doing in order to see if it might have relevance to one's own research. To do this is certainly demanding, but James found it fascinating and intoxicating. As a second year undergraduate he took to turning up to the monthly sessions the scientists held to discuss with each other what they were doing and James found they were willing to let him sit in and ask questions.
He quickly got involved in research, working with specially bred mice (whose brains are very similar to our own at the cellular level) to learn more about exactly how messages are conveyed in the brain. This involved spending many extra hours during term and vacation in the laboratory, on top of work on the expected essays, lectures and tutorials of his course, but again James saw this research as being what he should and really wanted to do.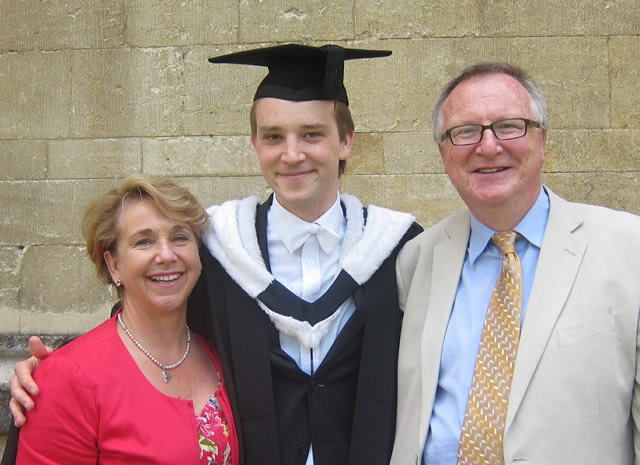 By the time his final year arrived James' work was bearing fruit. He had examinations to pass and in addition every student had to produce a thesis, an extended piece of original work. James had reached the point in his research where he was able to write up his conclusions as an academic paper which he submitted to a conference of neuroscientists for discussion, with the intention that it will finally be published in an academic journal.
The result was not only that he earned a first-class honours degree, but he was - as his college noted "nominated by the Medical Sciences Division for his outstanding performance in the Final Honour School of Physiological Sciences in 2013 and was also awarded the Gibbs Prize for best performance in the examination in 2013."
That was a year ago and James was very reticent about making public just how well he had done, and he asked me not to write about it as he hated the thought of people thinking he was being boastful, so I reluctantly kept quiet and respected that.
Since then he has embarked on study for a doctorate at Cambridge. He will be exploring how, at the cellular level, different circuit elements involved in movement interact with one another (i.e. learning exactly what happens to the circuits in the brain when you choose to pick something up – something currently not understood).
In order to do this he has been awarded a Howard Hughes scholarship to work on his research at Janelia Farm Research Campus in Virginia, USA for the next four years. This is - as it describes itself - "a world-class biomedical research center where outstanding scientists from diverse disciplines use emerging and innovative means to collaborate on some of science's most challenging problems." So we can see that James has ended up just where he wanted to be.

In June his year, however, Oxford honoured James by inviting him to take part in a special graduation ceremony called the Encaenia. Here his achievements were recognised and his parents, Dr. Iain Phillips and his mother Jackie, were able to come up from Wincanton to see the ceremony and afterwards join him at a celebratory garden party where they were served, as tradition demands, peaches, strawberries and champagne.
Again, on hearing about this I asked James if I could update his story here and after considerable reluctance he relented. His reason for doing so was that he feels it is important for us to know that he recognises the teaching and support he has received, together with the backing of his parents, in being educated in what he experienced as good maintained schools in Wincanton and Salisbury. This experience really spurred him on to make the most of his abilities. He also hopes that what has happened to him will inspire others - whatever their talents - to aim high.