Wincanton's focused community website, providing news and information including a full calendar
News » Service Providers
HSBC is Closing its Wincanton Branch
Thursday 29 October 2015, 16:08
By Fanny Charles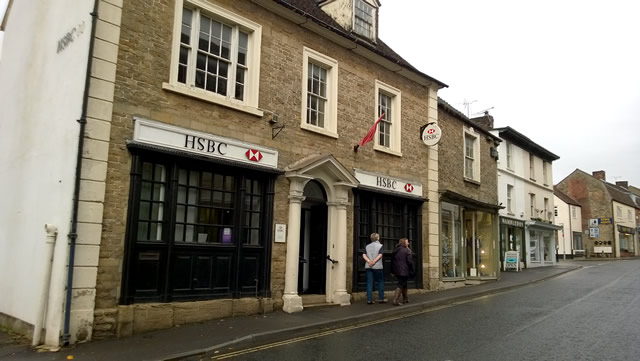 There is bad news for staff and customers of Wincanton's HSBC branch on the High Street – the bank is closing the branch in January. It is also closing the branches at Sherborne and Glastonbury, forcing local customers either to go over to online banking or travel to Yeovil, Frome or Shaftesbury.
Public transport is expensive and often not available, conveniently or affordably, to the places that local people may wish to travel.
It had been known for some time that HSBC would be closing some branches but customers at the busy Wincanton branch hoped that there was enough local business to save it.
It is not only a blow for the staff and customers – for many of whom the journey to the alternative branches will be expensive and difficult – it is a blow for the town, closing a prominent High Street business.
There will still be a cash-point (big deal, since you can go to Morrison's for the same services, with no charge), but what will be lost is the friendly personal service that HSBC customers have enjoyed, in some cases for 20 or more years.
This is yet another example of the ruthless behaviour of the big banks and global corporations, removing valuable and valued services from rural communities with no consideration for the impact on the staff or the people they have served.
The staff have apparently been told there will be no job losses, so presumably the savings will come from what is charmingly known as "natural wastage" – such an elegant way to write off people who have worked loyally often for decades.
Many people do not trust online banking – and news of accounts or websites being hacked does not inspire confidence. So a move to online banking is not one that is going to appeal to many of the customers who are now being abandoned by HSBC. The winner in all this may be the Post Office but for those who have been loyal to what was formerly the Midland bank – the so-called "listening" bank – this is yet another reduction in personal autonomy, at a time when we are told we should have choice in our services and utilities.
Wincanton does still have a Lloyds and a NatWest, so we are better off than some similar sized towns, and of course we have a wonderful Post Office which is a joy, both as a building and as a service.
But if one bank closes, will the others follow? When does it stop? Should we start a campaign or does that feel like throwing ourselves against a wall that will neither crack nor cave in?
At the very least, I would like to encourage HSBC customers and others who value the service provided by High Street retail banks, to write to HSBC and protest at the loss of a branch which has served this town well for so many years.
---
[EDITOR:] A spokeswoman for HSBC said:
"We never take the decision to close a branch lightly, and we understand it's unsettling for the local community. Unfortunately, use of the Wincanton and Sherborne branches has fallen significantly over the past few years, and we've taken the difficult decision to close them on 22 January.

"We are working with customers who use the branch to help them understand their options, which include being able to use the Wincanton and Sherborne post offices to check their balance and withdraw and pay in cash and cheques to their personal HSBC account. There are also a number of fee-free cash machines in the local area."