Wincanton's focused community website, providing news and information including a full calendar
Headlines » Health & Fitness » Parkinson's Group
Wincanton Parkinson's Group Celebrates its First Anniversary
Monday 31 October 2011, 13:11
By Stephen Beech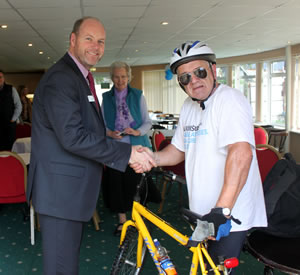 On 19th October 2011 the Wincanton and Area Parkinson's Group held its first birthday celebration at Memorial Hall, Wincanton, where over 60 invited guests, members and family attended.
The Guest of Honour was Mr Steve Ford, Chief Executive Officer, Parkinson's UK. To start off the proceedings Mr Ford greeted Andy Pollard a Parkinson's sufferer, who had undertaken a 13 mile sponsored cycle ride from Marshall, Dorset in torrential rain, to Wincanton Memorial Hall, raising in the region of £250 for Parkinson's UK.
Then Mr Stephen Beech opened the celebrations by giving a short précis of why and how he decided to set up a Parkinson's Support Group in Wincanton, after being diagnosed that he was a Parkinson's suffer. He said, "I felt so alone after the diagnosis, and did not know which way to go or what to do, or anybody who had Parkinson's."
Mr Beech thanked Dr Fox, Dr Fellows and the local Patient Participation Group, of Wincanton Health Centre, for organising the Health Information Evening about Parkinson's Disease. He thanked Dr Baker and Ruth Goodland, a Parkinson's Speciality Nurse, both of Yeovil District Hospital, for coming to the Health Information evening last year, and speaking about Parkinson's Disease to the audience. This eventually led on to the formation of Wincanton and Area Parkinson's Group in October 2010. Mr Beech also thanked members of North Dorset Branch of Parkinson's UK, for taking the group under its wings in this early stage of development, plus he thanked Jane Henderson, Sarah Barter, and other members of South West Region Parkinson's UK, for all their love, help and steadfast support in getting the group off the ground.
Mr Beech then told the guests that the group started with a meeting of 10 people to now having a membership of 38 members, and was still growing. He said that they were getting enquiries from as far as Wiltshire, Dorset, Yeovil and Shelton Mallet to join the group. He thanked all the members of the committee and other members for all their hard work in making this such a successful group, in such a short time.
Mr Steve Ford then spoke to guests about the charity and the future vision of Parkinson' UK. Their vision is to find a cure and improve life for everybody affected by Parkinson's. Their six main goals are:
No one will have to face Parkinson's alone.
They will listen and respond to the needs of everyone affected by Parkinson's.
They will improve life for everyone living with Parkinson's.
Their leadership in research will have resulted in better treatments and progress towards a cure.
They aim to raise more than £110 million to meet the cost of delivering their ambitious plans.
They will be a united, focused and effective organisation.
Miss Justine Amore from Yeovil then presented to Mr Ford a cheque for Parkinson's UK for money she raised from a sponsored parachute jump from 10,000 feet earlier this year.
Guests were then invited to have refreshments from a very plentiful buffet that had been laid on for the event. All the guests commented on what a lovely and informative afternoon it had been.