Wincanton's focused community website, providing news and information including a full calendar
Headlines » Health & Fitness » Sarah Gibson Optometrist
Changing Faces at Wincanton's Optician - Is It You We're Looking For?
Monday 16 May 2011, 14:44
By Sarah Gibson
Article updated 24/5/11 - See note in red below.
A lot has happened in the last 18 months at Sarah Gibson Optometrist. I'm still here, beavering away in my little windowless room and Jess, the Practice Manager is still present and correct, if a little (or a lot!) overworked, but we have said our fond farewells to some wonderful people and hello to a new face. Now we need another somebody to complete the team.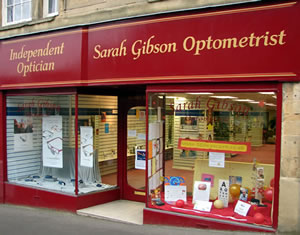 Let me introduce Paul. Yes, we finally have a man on the team, and very welcome he is too. Paul was well known to the practice as the manager at the spectacle laboratory we use, and he was always a fantastic source of knowledge about all things spectacle lens related. He has an almost encyclopaedic knowledge of lenses and if he doesn't know the answer he knows where to find it! Now we have the benefit of his knowledge right here in the practice instead of on the end of a phone. He started his optical career in an optician's practice but found his calling as a lab rat (sorry technician) after a few years. He has been shut away in the lab and out of the public view for quite a while but seems to be adapting well to life back in the public eye. Do pop in and welcome him but be gentle with him. Remember he has to work with me and Jess all day, and both of us are sticklers for things being "just so" which could be translated as "done our way or not at all". It's probably enough to drive any sane man to distraction. He is too shy to let me publish a photograph of him so you will just have to come in and see what he looks like for yourself.
And now to our latest new addition...
Bit if a technical hitch with that one as we don't know who it is yet!
Have a quick look in the mirror because it could be you featuring in our next update! Yes, we need a new member of staff. It is a full time post, five days a week to include Saturdays and a late finish to 7.30pm on Tuesdays with a day off in the week. Are you that person?
If you can answer yes to the following questions then send us your CV and a handwritten application letter.

Are you a great organiser?
Do you live by the mantra "the devil is in the detail"?
Are you keen to learn new skills?
Do you enjoy working with people?
Do you thrive on getting the paperwork "just so"?
Do you get a kick out of helping people?
Are you looking for a break from the 9 to 5 treadmill?

The role is complex and varied and no two days are ever the same. We can teach you the technical bits, you just need to bring enthusiasm and flexibility.

For the full job description please email the practice at and request a copy.

To find out a bit more about the practice go to www.SGOeyecare.co.uk.
Please send applications to:
Sarah Gibson Optometrist
Commerce House,
Market Place,
Wincanton
BA9 9LP
24/05/11 update: There could be another personnel change shortly as unfortunately, we have just heard that Paul will not be staying with us after all. Please watch this space for more news on Changing Faces at SGO.
For those of you who want the gossip, here's what happened to the rest of the team.
Becca left after eight years of loyal service to follow the path of true love and moved to the south coast. We hear that she is now engaged to be married so congratulations go to Becca and her fiancé, Alan. He's a lucky man but I suspect he's been told that already.
Katie had her second gorgeous baby boy and now has her hands full with three men in the house. It proved to be too big an ask for her to organise and look after all of them and come back to work and look after us too, so it is with much regret that we have said goodbye to her as well.
Jane, who filled in so wonderfully for the duration of Katie's maternity leave, has been unable to take up the permanent post for the time being but we live in hope that she may be able to rejoin our little family at some point in the future.
Sian was with us for a brief few months having come from a big multiple practice in Yeovil but has moved on to pastures new. The more sedate pace of an independent practice in Wincanton was a bit quiet for her after the hustle and bustle of a multiple practice in a busy town centre but you may see her at the 2011 Christmas Extravaganza displaying her fantastic juggling skills.