Wincanton's focused community website, providing news and information including a full calendar
News » Service Providers
The Sweet Smell of Success - Celebration Cakes by Tanya Martin
Wednesday 11 February 2015, 17:24
By Alice Glover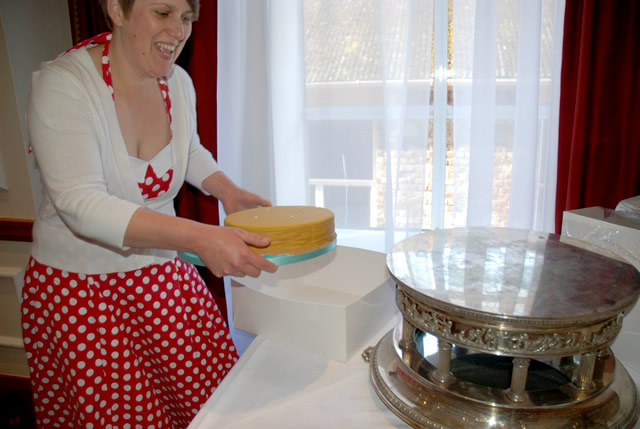 A year after setting up her successful cake business, Art of Cakes, Tanya Martin talks to me about her passion for baking and cake decoration. Tall and unassuming, she really does not know how talented she is as her bespoke cakes demonstrate her enormous skill and creative flair.
She started baking at the age of 14, making cakes for family and friends, but ever since she made her daughter, Zeta's 2nd birthday cake, she dreamt of turning her hobby into a career and starting up her own business. In 2013 her dream became a reality as on 15th June, the Art of Cakes kitchen opened its doors.
Tanya makes both 2D and 3D celebration cakes for all occasions with a wide variety of different flavoured sponges and butter cream fillings. These include: mouth watering plain butter sponge, vanilla, chocolate and for the more adventurous: delicious lemon and white chocolate, amaretto and cherry or even butter sponge with sweet chilli jam!
She also creates individual cake decorations or "toppers" and edible plaques to accompany each cake. In addition she makes cupcakes, cookies and Cake Pops: miniature spherical cakes filled with butter cream and covered with a layer of fondant icing that is to die for!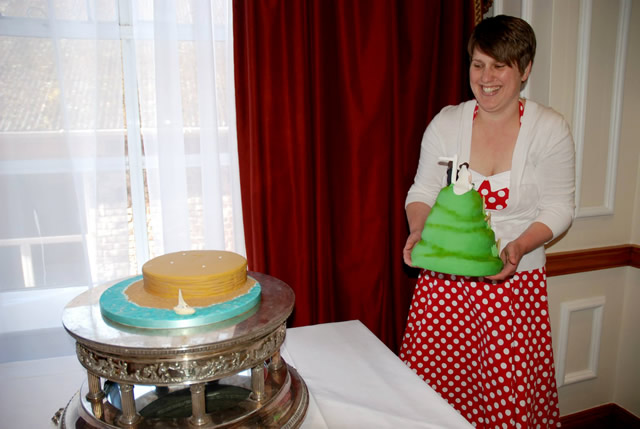 However her repertoire does not end there! If you are looking for something more traditional, Tanya makes what she calls 'Every Day Bakes'. Typical of Tanya, she truly does not realise how special her 'Every Day' cakes are! These include light, rich fruit cake and the British summertime classic, the Victoria Sandwich.
All her cakes are baked and decorated to perfection with astounding attention to detail.
"I am often up 'til 5 o'clock in the morning putting the finishing touches to large and tiered cakes", she told me.
I was particularly impressed with the 3D Mulberry bag cake that she made for my mother's birthday – it looked so realistic, it was hard to believe that it was a cake! To my amazement she had even included the stitching on the "leather" and the Mulberry tree logo, which she had very carefully embossed onto each edible rivet. It was so well conceived that we invited friends 'round just to look at it!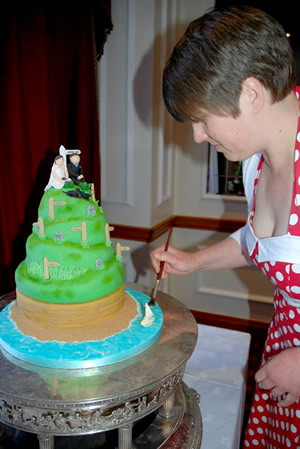 Her Cup cakes also failed to disappoint! I am usually underwhelmed by cup cakes as even though there is an abundance of butter cream, the sponge is often stodgy and flavourless. However, when I tasted Tanya's cupcakes, I was very surprised. In her recipe, she has managed to strike the perfect balance: a thick, indulgent layer of butter cream or fondant is complimented by a moist, flavoursome sponge cake.
She is also looking to create her very own range of filled cup cakes which I am sure will be just as delicious; and has recently discovered fondants with some rather unusual flavours. On her step-daughter's birthday for example, she made cup cakes topped with cola flavoured fondant!
Tanya insists on using only the finest of ingredients and always selects by quality and not by price. This attention to detail is always reflected in her overall creations.
"The better the quality of the ingredients, the better the cake. I only use organic flour and free-range eggs; and to flavour the sponge I use vanilla extract rather than essence as it gives a richer, more natural flavour."
For those who are watching their waistlines, she would like to launch a whole range of organic products and expand on her low fat range. This currently includes light, moist low fat tea loaves.
Tanya just loves every aspect of cake making. She particularly enjoys designing cakes and with an A-level in Art, has produced some jaw-dropping designs. Her most complex design so far has been the Mad Hatter's Tea Party cake, which proved quite a challenge to make! It consisted of three deep tiers and was covered in an enormous sheet of shimmering green fondant, which was moulded into the shape of the Mad Hatter's top hat. Thin strips of orange fondant were then wrapped around the cake to form a ribbon and astonishingly, she had even made dents in the fondant to look like creases.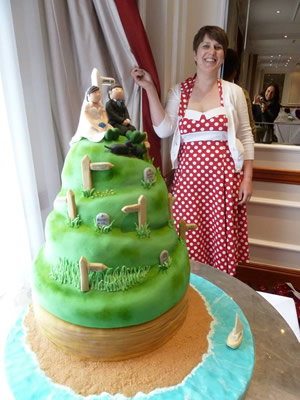 The cake was 12" high and sat on a large white edible plaque, which closely resembled a playing card. Surrounded by cut out fondant hearts the cake also included some of the main motifs in Alice in Wonderland. These included the key, the bottle labelled 'drink me' and the pocket watch worn by the white rabbit. Delicately crafted out of sugar paste, these objects looked unbelievably realistic.
Tanya feels that it is very important to get children involved in baking as it teaches them valuable life skills.
"They not only learn how to cook and to look after themselves, but by reading a recipe they also improve their reading ability and learn how to follow instructions."
Tanya really enjoys baking with her daughter, grandson and step-children who are fast becoming budding bakers themselves. In the near future she would also like to open her own cookery school to pass on her skills to the next generation of bakers. Having worked with her myself I feel that she would make an excellent teacher as she is very patient and gives instructions in a clear and concise manner to novices like me.
All of Tanya's products and prices can be found on her website.