Wincanton's focused community website, providing news and information including a full calendar
News » Service Providers
Canine Massage Therapy
Sunday 18 March 2012, 18:45
By Tina Ogborn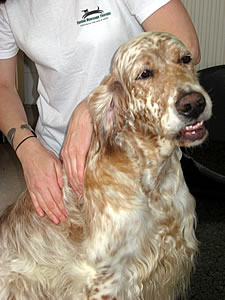 Massage therapy for dogs works in the same way as it does for us humans. It is a completely drug free, holistic treatment.
People tend to be surprised and sceptical when they hear of canine massage which is strange considering humans have enjoyed its benefits for thousands of years.
Physiotherapists are always on hand to treat athletes before, during and after their sport; why should performance dogs not experience the same benefits?
Dogs are often much more prone to muscular issues than us, as they tend to race around without being warmed up sufficiently and they are prone to repetitive problems caused by chasing balls.
If you have ever sprained a muscle or suffered from a bad back or a chronic orthopaedic problem then you will understand how debilitating it is. Dogs will feel this too. People often don't realise their pets are suffering. This is because dogs tend to carry on regardless. Dogs have a genetic survival instinct which means they cannot show weakness. In the wild showing pain or weakness can mean death.
Just because your dog is wagging its tail and is willing to go for a walk does not mean it is not suffering from a muscular problem.
Signs to look out for
Limping / lameness
Twitching along the spine
Stiff after exercise
Stiff after getting up
Unwilling to exercise
Postural / gait irregularities
Ageing before its time
Benefits of massage
Enhanced mobility & flexibility
Improved circulation
Relieves tension, stiffness & soreness
Releases trigger points (knots)
Positively influences the healing process
Releases painful muscle spasms
Reduces risk of muscular injury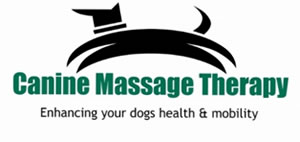 Massage is beneficial for all dogs not just performance dogs. I have witnessed great results when used to manage conditions such as arthritis or hip/elbow dysplasia. Many pet dogs suffer with joint problems and are usually prescribed with non-steroidal anti-inflammatory drugs (NSAIDS). Whilst these are necessary to ease pain they can often be reduced when used in conjunction with massage therapy.
Massage will keep the joint supple and ease inflammation leading to a stronger joint and less compensation in other areas.
Whenever muscular issues are present the body will compensate meaning other muscles will be overworked or used incorrectly, leading to further issues. Massage will ease secondary problems whilst improving posture and gait.
Everyday activities that can cause muscular injury
Slipping/skidding on laminate/wood floors
Repetitive activities e.g chasing balls
Jumping in and out of the car
Going up and down stairs
Jumping on and off the sofa
All of these activities are things that most dogs carry out every day and although they don't seem very demanding they can cause all sorts of long term issues or exacerbate other problems.
Some simple adjustments such as putting down a rug or runner in main walkways to avoid slipping can really help.
Using a ramp for large dogs to get in and out of the car or lifting small dogs.
Try not to spend a long time throwing toys for your dog, this repetitive action can be extremely harmful especially to the shoulder region. Try hiding food for them to sniff out. As well as using their brains they are stretching their necks and lower back. This type of exercise is much better for them.
Stairs, especially for puppies, can cause damage, especially going down. This can easily be avoided with a stair gate.
About Me
I am a qualified canine massage therapist based in Wincanton and covering Somerset, Wiltshire, Dorset, Bristol and Bath. I have an in-depth knowledge of canine anatomy and physiology which enables me to be able to skilfully manipulate your dog's muscles, tendons, ligaments and underlying tissues to improve their mobility and quality of life.
What happens?
I require a referral from your vet. This ensures I know your dog's history and that you are assured a qualified professional is treating your dog. I will also give your vet a written report on my findings.
I will come to your home and treat your dog there. Most dogs are more receptive in their own environment.
Usually three sessions is enough to get results. These are usually carried out weekly for three weeks. More treatments may be necessary if your dog has been holding an issue for a long period or if we are managing a long term condition such as osteoarthritis.
Introduction to Canine Massage Workshop
I hold regular one day workshops for dog owners to learn the basics to massage their own dog. These take place in Evercreech and dates can be found on my website or Facebook page. They include:
The benefits of massage
What is under your dog's skin?
Bony landmarks & main muscle groups
Massage techniques
Passive movement
Massage routine
You can find out more about canine massage on my website: www.caninemassagetherapy.co.uk, email or telephone 07852 234420.