Wincanton's focused community website, providing news and information including a full calendar
News » Health & Fitness » Wincanton Community Hospital
Bishop of Bath and Wells Visits Wincanton Community Hospital
Friday 25 November 2011, 14:55
By Paul Courtney, NHS Somerset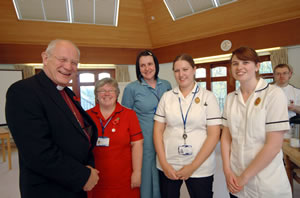 The Rt. Rev. Peter Price, Lord Bishop of Bath and Wells visited Wincanton Community Hospital on 9th November 2011. During his two hour visit he met patients, hospital staff and Friends of Wincanton Hospital who are busy preparing for their Christmas fundraising campaign in order to buy the hospital a new ultrasound scanner.
Greeting the Bishop was Claire Andrews, Hospital Matron, plus a line-up of her staff representing all aspects of this busy hospital; staff nurses, hospital cooks, porters, ward clerks, reception staff, the Chaplaincy and 'Friends of Wincanton Community Hospital'.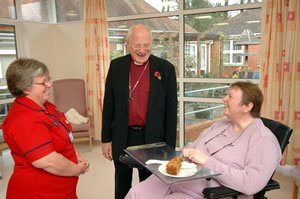 During his visit Bishop Peter visited the hospital's Minor Injury Unit, the patient dayrooms and two segregated male and female wards. During the visit he was able to admire a new relative's room, specially decorated and furnished by hospital staff and funded by the hospital "Friends."
On Athlone Ward Bishop Peter met Mr. Moore from Yeovil and Mr. Brunt from Wincanton and on Hadspen Ward he chatted to Sandra Bailey from Chilthorne Dormer, Yeovil.
The Bishop also spent time with Pat Sainsbury and Alan Judge of the 'Friends of Wincanton Hospital'. They informed him that the generosity of local people had resulted in the hospital's 'Friends' raising over £1,250,000. It was their aim now to have a Christmas fundraising drive to pay for a new ultrasound scanner.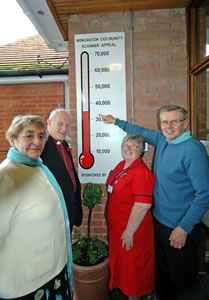 Commenting upon his warm and friendly welcome to the hospital, the Rt. Rev. Peter Price said: "I have been tremendously impressed by the wonderful community spirit here at Wincanton Community Hospital and the way in which everyone is working to ensure patients receive the best possible care."
Local people can help show their support the Friends of Wincanton Hospital by visiting Wincanton pubs and giving generously on the evening of Friday 16th December, when doctors and health staff from the hospital will be holding "The Singing Doctors' Christmas Carols".
Or why not come along to the Christmas Fayre at Wincanton Community Hospital on Sunday 4th December, 2011 from 2.00pm-4.00pm.