Wincanton's focused community website, providing news and information including a full calendar
Headlines » Health & Fitness » Sarah Gibson Optometrist
Are you UV wise?
Thursday 22 April 2010, 12:18
By Jessica E Stapleton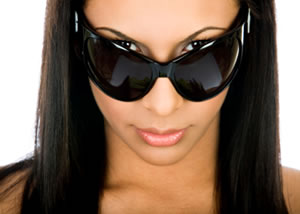 We all know that Ultra violet radiation (commonly knows as UV rays) is harmful for our skin. But did you know that UV is also damaging for our eyes?
Thankfully the Earth's Ozone layer blocks out the majority of the damaging UV rays. However, there are some that sneak through. These rays can pass through the cornea of your eye and reach the lens and retina. This is where the damage occurs.
Research shows that overexposure to ultra violet light is linked to certain types of cataract. It also suggests that there may be links between UV and macular degeneration - a potentially sight threatening disease of the eye. Fear not, there is a very simple solution to help protect your eyes.
Sunglasses - For the best protection you need to purchase sunglasses that block UV 100%. You can pop into your Optometrist practice and speak to a member of staff who will be able to advise you on a pair of sunglasses to suit your needs.
Children need to protect their eyes from a very early age. Statistics demonstrate that the majority of UV damage occurs before we reach the age of 18. This could be because children tend to spend more time out-doors - meaning more UV exposure.
Here in the practice we can provide sunglasses for children as young as a few months old! These are known as 'Baby Banz' and are available in a variety of colours suitable for both boys and girls.
For children slightly older, around the age of 3 we have a range called 'Kidz Banz'. These too are available in lots of colours so we can find a pair to suit your child perfectly.
We also have a collection of Polaroid sunglasses suitable for older children. Polaroid sunglasses offer protection from UV rays and also significantly reduce glare, which people can experience from the ocean, sand and sun. Look at the pictures below to see the dramatic improvement in clarity of vision with a pair of Polaroid sunglasses.
| | |
| --- | --- |
| Vision without Polaroid sunglasses | Vision with Polaroid sunglasses |
The Polaroid collection extends to cover adult requirements as well. Here at the practice we can offer fashionable sunglasses that offer the highest UV protection and reduce effects of glare, which means you're eyes are less likely to feel tired during the Summer sun.
What's more, with some Polaroid sunglasses we can even put your prescription into the lenses. Due to the success of the Polaroid sunglasses this year we have ordered in more and are eagerly anticipating their arrival in May.
Purchase Polaroid sunglasses and get a better view today.