Wincanton's focused community website, providing news and information including a full calendar
Headlines » Clubs/Associations » Wincanton Gardeners
Wincanton Gardeners Visit Highgrove
Thursday 1 January 1970, 01:00
By June Spencer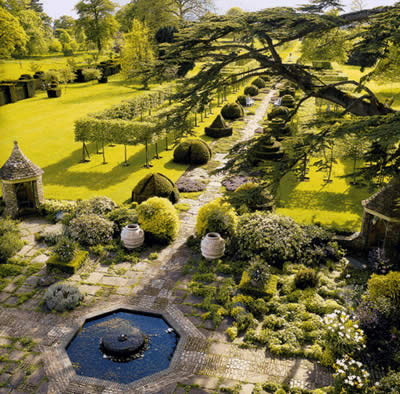 We had perfect weather with the sun coming through the slight mist as we arrived at Highgrove. We passed a field full of happy free range chickens and then a friendly policewoman checked our ID. We started our tour with an extremely knowledgeable guide who peppered his description with amusing comments.
How to describe the garden? It is a natural, relaxed place, featuring trophies from travel, enormous amphora, and a statue of a beloved dog - now dead. Huge tree roots make an arresting display, together with wood carvings, stone carvings and "liberated" stone remains from churches. Long vistas radiate from the house ending in a statue or small building. Everywhere there are many varieties of trees with areas ideal for meditating in, with the song of birds adding to the harmony of the place. Black Hebridean sheep contribute to this beauty - and to the eco system.
The walled garden is the productive place for organic vegetables. A Persian Carpet Garden, which won a medal at the Chelsea Flower Show, with water running along turquoise channels, gives a harmonious aspect.
We learned that all human waste goes through a reed bed system and comes out in a drinkable state. Another gem picked up was that Yew trees were always planted in churchyards out of the reach of cattle as they are poisonous and that now a substance called Taxol, used for the treatment of cancer, is obtained from the yew cuttings.
There is little formality in the gardens except for box hedges, rosemary surrounds and some wonderful box and yew bushes - apparently each gardener had two bushes to cut as he liked, therefore there is now a walkway full of quirky fantastic bush forms.
The Prince's philosophy of a oneness with nature permeates the garden and I noticed a bust of Van der Post in one area, a man who had great influence on the Prince's thinking.
I came away with a feeling that I had been privileged to share the beauty and philosophy of the gardens.
Visit the Wincanton Gardeners Club web site: www.wincanton-and-district-gardeners.btik.com
June Spencer