Wincanton's focused community website, providing news and information including a full calendar
News » Events » Christmas » Christmas Extravaganza
Wincanton Christmas Extravaganza 2014 GALLERY
Tuesday 6 January 2015, 18:58
By John Smith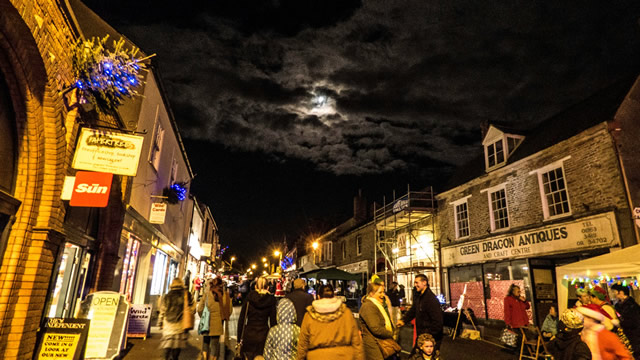 After all the planning and preparations for the 2014 Extravaganza, the event arrived and was over in three short hours. But it was a time crammed full of fun and celebration, enjoyed by a large buzzing crowd throughout the whole evening.
Celebrations started in Market Place with carol singing around the town's Christmas tree at 6.00pm. Big thanks are due to Emma Fletcher and her students from King Arthur's, who provided music and led the singing. The celebrations then branched out to the rest of town.
The Town Council held a civic reception to present the annual Community Award to the Wincanton Town Silver Band. When the reception was over the band then took their music out into the streets. Wincanton Choir started their evening by leading the crowd around the tree in a great community festive sing-song before moving up the High Street towards the market area. The Dolphin also kept their reputation for great Extravaganza entertainment with their Jazz evening in the Courtyard. The whole evening had a great musical backdrop.
Down by the Christmas tree a large section of the crowd moved over to the Baptist Church where they gathered to see Father Christmas in his Grotto, and the event's special guest "Bugfest" with their selection of bugs and slithery things. Not for the feint-hearted. It seems that some kids are tougher than their parents.
Shops throughout town were open and in the road closure area there was a good selection of market stalls. Wincanton Churches Together came through with their "Sheep Trail". Local vicar's wife Christine Fever could have a promising career in sales, judging by the way she collared both parents and kids to hand out Sheep Trail competition forms.
The Extravaganza Team said that they are grateful for the amazing support they got from the local business community, without whose support every year this important event would be dead in the water.
The 2015 Extravaganza will be on Friday 4th December. Planning will start in February 2015, so anyone who wishes to help please contact .
Wincanton Businesses Together would like to wish everyone in our community a very Happy Christmas and a great New Year.
Almost all the following photos of the evening were captured and edited by Chris Stovell.