Wincanton's focused community website, providing news and information including a full calendar
News » Events » Christmas » Christmas Extravaganza
Wincanton Christmas Extravaganza 2014 – Friday 5th December
Saturday 29 November 2014, 18:16
By John Smith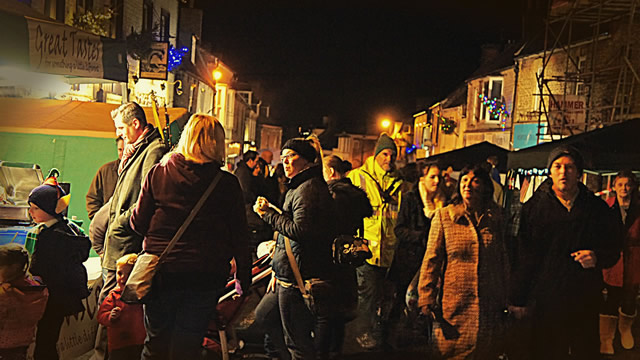 The Wincanton Christmas Extravaganza has become one of the major established community events in the Wincanton calendar. Preparations are now well under way for this year's event on Friday 5th December, and all the signs point to another great event.
The programme will include the official town tree lights being switched on by new town Mayor Martin Russell, carols round the tree from 6.00pm till 6.30pm and music and singing from students of our local schools.
The 2014 recipients of the Town Council Community Award, Wincanton Town Silver Band, will be playing during the evening, and the Wincanton Choral Society will be singing from their repertoire.
The High Street traders will be opening late and looking forward to your visit on the night. There will also be a selection of market stalls to tempt you with their wares. The event normally sees around 3000 visitors over the course of the evening, giving it a great atmosphere.
For 2014 the special guest will be Bugfest, bringing an array of slithery snakes and creepy crawlies, based in the Baptist Church Hall, Mill Street. Father Christmas moves to a new grotto all of 20 yards away in the foyer of the Baptist Church. He said his elves have been busier than ever wrapping presents for the children. The Grotto will be open after the tree lights have been switched on at 6.30pm.
The Wincanton Churches will also be launching a full scale search for a missing flock of sheep. They are believed to be in hiding in some of the shops. Look for shops with the special search logo and see if you can find little Purl and her fellow woolly jumpers.
To accommodate our visitors, market stalls and carol singers safely, Bradson's Event Services will be our event Marshals for the night. High Street will be closed between the traffic lights and the entrance to the Memorial Car Park between 4.00pm and 9.00pm. Mill Street will also be closed between 6.00pm and 7.00pm.
There is still time to book a pitch for your market stall, but spaces are running out. To ensure your pitch, contact for full information and download an application form.
WBT is also looking for new sponsors to help them further develop the event. Sponsorship is the life blood of the Extravaganza, and without it the event simply can't happen. If you would like to help WBT maintain and improve this event, contact them and ask for sponsorship information.