Wincanton's focused community website, providing news and information including a full calendar
News » Councils
Thursday 4th May is county council election day
Wednesday 3 May 2017, 19:26
By John Smith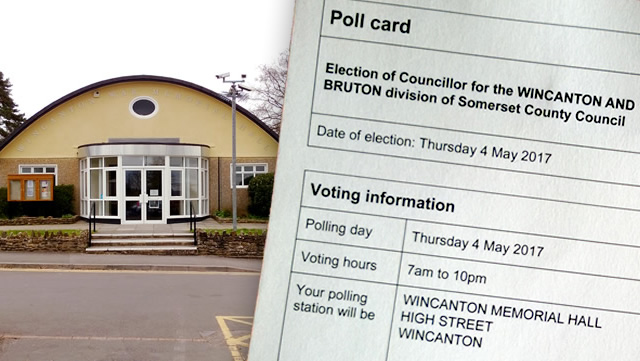 [UPDATE 10-05-2017:] The results are in. Read all about it.
[ORIGINAL:] Thursday 4th May 2017 is county council election day. We are being asked to vote for the next county councillors to represent Wincanton, Bruton, Castle Cary and Milborne Port at Somerset County Council in Taunton.
Voting for the Wincanton and Bruton candidates will take place at Wincanton Memorial Hall between 7:00am and 10:00pm.
Details of your local polling station will be on the official poll card sent to you by post. Alternatively, choose your district on this page for details of your candidates and polling station.
This election is important for us because central government delegates much responsibility to county councils. They take decisions daily that affect us all. Local elections don't come with the same fat media budgets as the national elections, but that doesn't mean they're less important to the people living in their respective areas.
Don't let the forthcoming snap general election on 8th June distract you. These elections of county councillors have no effect on the general election of members of parliament next month. Have your say and vote for the next county councillor for your area this Thursday.
See below the candidates standing for tomorrow's elections, as well as the results from the previous elections in 2013. It is worth noting that this year there are no UKIP candidates.
2017 election candidates
Wincanton & Bruton

| Candidate | Party |
| --- | --- |
| JONES, Ewan William George | Green Party |
| BAKER, Abi | Liberal Democrat |
| TURNER, Patricia Ann | Labour |
| GROSKOP, Anna | Conservative |
Castle Cary

| Candidate | Party |
| --- | --- |
| DROMGOOLE, Sean Adam | Labour |
| HOBHOUSE, Henry | Liberal Democrat |
| LEWIS, Mike | Conservative |
Blackmore Vale - Milborne Port
| Candidate | Party |
| --- | --- |
| SARAH, Joanne | Liberal Democrat |
| YIANN, Michael Andrew | Labour |
| WALLACE, William | Conservative |
| DOWDING, Oliver Hugh Arnold | Green Party |
2013 election results
Wincanton & Bruton

| Candidate | Party | Votes |
| --- | --- | --- |
| ADAMS, Shane Antony | Green Party | 131 |
| BAKER, Abi | Liberal Democrat | 549 |
| DANIEL, Tim | Labour | 193 |
| GROSKOP, Anna | Conservative | 1555 - Elected |
| HAMLIN, Brenda May | UK Independence Party | 493 |
Castle Cary

| Candidate | Party | Votes |
| --- | --- | --- |
| CARTER, Adrian | Labour | 144 |
| HILL, Chris | UK Independence Party | 627 |
| HOBHOUSE, Henry | Liberal Democrat | 1196 |
| LEWIS, Mike | Conservative | 1529 - Elected |
Blackmore Vale - Milborne Port
| Candidate | Party | Votes |
| --- | --- | --- |
| HOOTON, Damon John | Liberal Democrat | 412 |
| PENBERTHY, Jo | Labour | 224 |
| WALLACE, William | Conservative | 1410 - Elected |
| WOOD, Alex | UK Independence Party | 665 |