Wincanton's focused community website, providing news and information including a full calendar
News » Villages
The Bayford Book - launching 8th September
Wednesday 29 August 2018, 16:14
By Brian Garton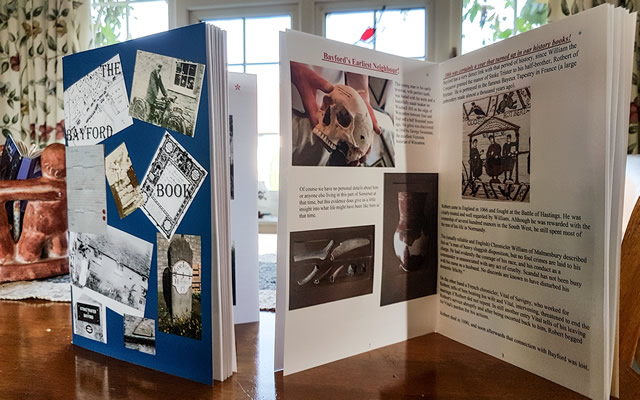 Last October, more than 100 local residents, and some from further afield, came to our new Village Hall in Bayford to view and talk about the Bayford History and Memories Exhibition. Many of them asked if some of the photographs and articles could be turned into a book. The answer is yes, and it arrives on Saturday 8th September!
The book goes back in time to before the Norman Conquest, and also has articles by folk living in Bayford today, and there are many items on much else that has happened in Stoke Trister and Bayford in all those centuries between.
See for yourself how some of the houses and the main street have changed in that time. Find out about Rotbert of Mortain (Lord of the Manor in 1087, and a half-brother of William the Conqueror) about whom one chronicler wrote "No discords are known to have disturbed his domestic felicity", although another says he really treated his wife very badly! (There were 7 slave households in the village at that time, but we don't know anything personal about them!)
You can also find out about the Stoke Trister witch, that Agatha Christie regularly visited the village, and read an eye witness account of what happened when the American bomber "Old Faithful" crashed at Snag Farm in 1944, and so much more.
Why don't you come to the Village Hall around 10:30am on Saturday 8th September to collect your copy if you ordered one, or buy one if you didn't, and enjoy the company of others as you dip into it and reminisce over a cup of coffee and a slice of cake?
The cost of one copy of this 64 page full colour booklet is only £5. If you can't come in person, please contact Sidonie or Brian Garton on 01963 34808 to reserve a copy.