Wincanton's focused community website, providing news and information including a full calendar
News » Miscellaneous
Taking fly-tipping to the next level in Wincanton
Tuesday 17 October 2017, 11:52
By Dave Smith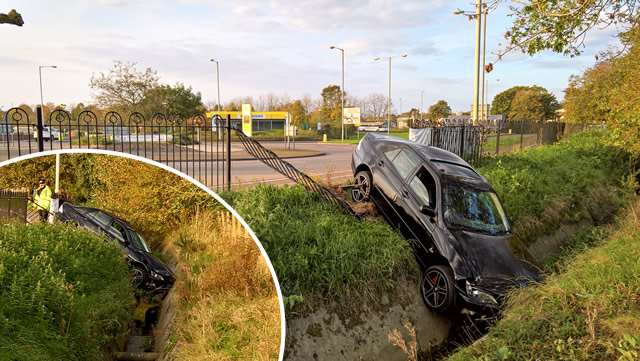 Someone in Wincanton has taken fly-tipping to a whole new level today, by dumping a Lexus in the drainage channel between the Morrisons roundabout and the skate park.
A member of the public reported the incident at around 9am but it isn't yet clear exactly when it took place. At the time the photo was taken, Police were just arriving to assess the situation but the driver wasn't on the scene. They are aware who owns the vehicle, but of course can't be sure who was actually driving at the time.
Though the collision took place with enough momentum that the driver was unable to stop the vehicle before it mounted the kerb and demolished the metal railing, the nose of the car didn't clear the channel. Had it done so, there might have been less damage and a softer impact.
In any case, the driver appears to have escaped with their life, and perhaps without serious injury. If they were intoxicated they may have fled the scene to avoid charges in addition to dangerous driving and destruction of public property. And fly-tipping, maybe.
By coincidence, several members of C.A.T.C.H., the group of local volunteers who look after Wincanton's River Cale, were passing by and immediately investigated the possiblity of a fuel leak that could contaminate the river. Fortunately it doesn't appear to have happened, but the incident has prompted a discussion of the potential for installing a kind of filter into this tributary channel to prevent future contaminants making their way into the Cale itself.