Wincanton's focused community website, providing news and information including a full calendar
Headlines » Councils » SS District Council
District Council Question Time - What Would YOU Like Us to Ask?
Updated
Sunday 25 March 2012, 13:17
By Mandy Cochrane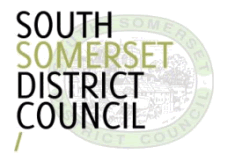 UPDATE 04/04/12
John Baxter has unfortunately hurt his back and will be unable to attend the meeting at SSDC tomorrow. We'll postpone all your questions for the next meeting and report back to you afterwards.
Wincanton Window recently received an invitation to attend an informal press briefing at South Somerset District Council offices in Yeovil on Thursday 5th April 2012. In attendance will be Cllr Tim Carroll (Deputy Leader), Cllr Henry Hobhouse (Portfolio Holder for Property & Climate Change), and Mark Williams (Chief Executive).
The meeting "aims to bring everyone up to speed with what is happening within the council, how they are reacting to Central Government changes and what all this means to the people of South Somerset."
They are equally open to suggestions of key matters to put on the agenda for future meetings, so this is your chance to let us know what matters to you and we'll pass it along.
We're told there will be time for questions, so we thought it would be a useful opportunity for us to go prepared with some questions from Wincanton people (and of course our local villages), as we know how easy it is for really local issues to be swallowed up in the wider management of the district.
So, what questions would you like us to ask for you? Leave comments below this article, email or use our Twitter, Facebook or Google+ pages to ask your questions. John Baxter will be representing Wincanton Window at the meeting and he'll do his best to get as many answers as he can and report back.