Wincanton's focused community website, providing news and information including a full calendar
News » Courses/Education » Somerset Skills & Learning
Somerset Skills & Learning Spring 2015 Courses
Friday 13 March 2015, 16:26
By Jenny Sparkes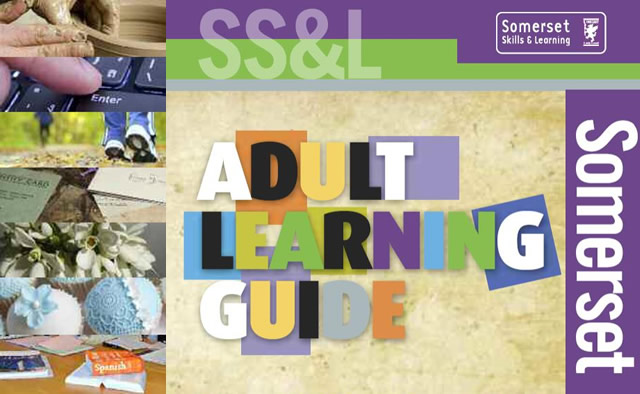 Whether you're looking to take up a new interest, learn new skills, have fun, secure a qualification, or stay fit and healthy, Somerset Skill & Learning has something for you in 2015.
Somerset Skills & Learning is your local provider of education, training and learning. We have 12 centres located in 11 different Somerset towns, plus the use of village and community halls, so there should be something happening near you and there is plenty to choose from. Your local centre is at King Arthur's Community Centre, West Hill, Wincanton, telephone 01963 31930.
The Adult Learning Guide is packed with courses, training opportunities and workshops and also lists those starting from January through to March. Our summer guide with courses, workshops and training starting from April will be available in February. To request your FREE copy, text 'Guide' with your name, full address and postcode to 07781 482 858 or alternatively call 0845 688 0488, or visit us at www.learnsomerset.co.uk.
Some of the courses on offer in the Wincanton area from January to July include Upholstery for all Abilities, Carry on Computing, Painting & Drawing, Yoga for all Abilities, Qigong and free Functional Skills English qualifications with many more starting each September. We also have a fully equipped computer suite with smart board and Wi-Fi which is available for hire for meetings or training sessions at reasonable rates.
Somerset Skills & Learning is also one of the largest providers of apprenticeships and vocational training in the county and the Adult Learning Guide lists the available opportunities. The 24+ Advanced Learning Loan is available for adult learners age 24 years plus studying at level 3 or 4, this includes Access to Higher Education, QCF Certificates and Diplomas.
The current Adult Learning Guide is available now; pick up your copy from your local SS&L centre, library or check online at www.learnsomerset.co.uk/coursefinder for up-to-date information. You can enrol online, or at the centre or by phoning 01963 31930.
Courses starting in and near Wincanton this Spring
Course
Start Date
Length
Venue
Functional Skills English (FREE)
Open
Ongoing
King Arthur's School, Wincanton
Qigong & Yoga for Health
4th April '15
11 weeks
North Cadbury Village Hall
Upholstery for All Abilities
15th April '15
6 weeks
South Brewham Village Hall
Painting & Drawing
for All Abilities
21st April '15
10 weeks
North Cadbury Village Hall
Dynamic Yoga
24th April '15
11 weeks
Caryford Community Hall,
Castle Cary
Yoga for Health
24th April '15
11 weeks
Caryford Community Hall,
Castle Cary
Water-Based Instructor
Unit Level 2 - Intensive
5th June '15
3 weeks
King Arthur's School
Painting & Drawing Workshop
7th July '15
2 weeks
North Cadbury Village Hall