Wincanton's focused community website, providing news and information including a full calendar
News » Miscellaneous
Rodney Legg's Funeral Celebration
Thursday 4 August 2011, 13:51
By Stewart Canham
A rather special funeral for a rather special man. Rodney Legg is laid to rest in the beautiful Higher Ground Meadow Burial Ground near Corscombe in Dorset in a service celebrating his remarkable achievements.
Rodney Frank Legg's Funeral was on Saturday the 30th July 2011.
This will be a date that will remain locked in the memory banks as we laid Rodders to rest. The morning was raining and very dull, but I hoped that now he was in the control room he might organise things to brighten up. They did and it turned into a beautiful day.
Higher Ground Meadow, the site Rodney had chosen is in the village of Corscombe Dorset, and a more beautiful place would be difficult to find. It has some of the most wonderful views I have seen in this county, and as I spend a lot of my time photographing wild life, you can imagine that I get to see some great scenery.
The time for the funeral was 3.30pm and as we drove into the car park a lot of people were already there. As one of the pall bearers I met with the undertaker and got the necessary instructions. This site is a very green one and Rodney's coffin was made of biodegradable recycled newspaper, and Di his partner had covered the lid with many pictures of Rodney from his childhood to just before his illness.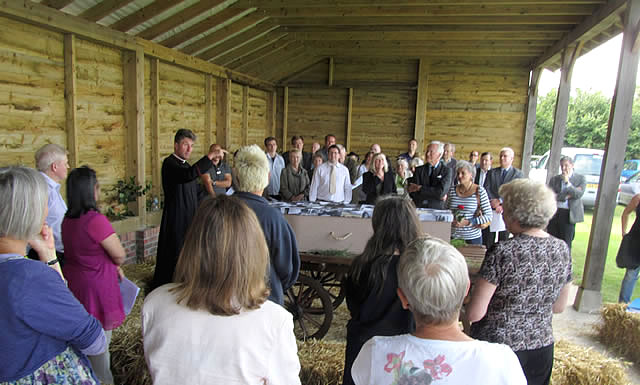 The service was conducted by the Reverend Steven Batty, who was a long time friend of Di. In the new barn were straw bales for us to sit on, and the coffin was placed on a lovely old wooden four wheeled cart and pushed in to the barn as well. After Steven's opening address, he invited any one who wanted to, to speak about their memory's of Rodney. Kate Ashbrook who took over as general secretary of the Open Spaces Society after Rodney stood down made the apt remark about him. "He was the grit in the oyster that produces the pearl" That was something that Rodders would have been very proud of.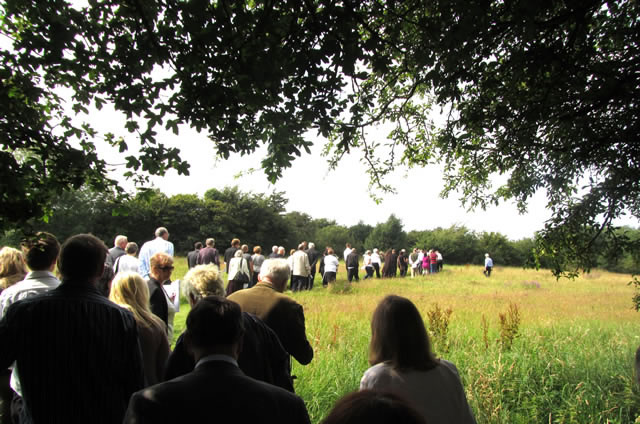 After all the speeches were over every one walked through the wild flower meadows along a mown path to the burial site, and the final view that only two weeks before Rodney had chosen and photographed when he came to see his final resting place. He had shown me his photos of this stunning landscape and as I asked where it was, he just said "that's where I shall be buried".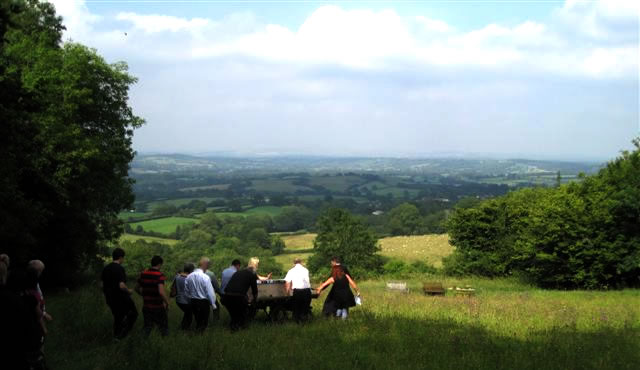 We sung Abide with Me, followed by my all time favourite Jerusalem, and as we were singing I noticed a buzzard rise out of its tree top perch and circle above the crowd, which I found very fitting as Rodders loved his wild life.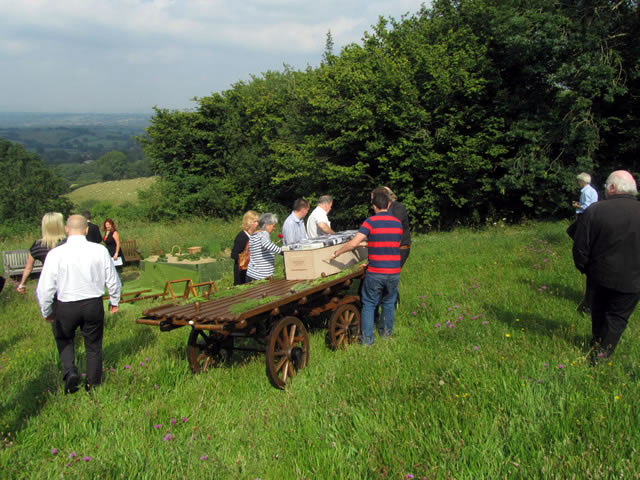 The pall bearers lowered the coffin into the ground and the final words were spoken "Ashes to ashes, Dust to dust" after which every one put either some soil or flower petals, or in some cases a note into the grave.
We all then retired to the village hall where Di had arranged some very fine food and drink, and as we were eating we were all given one of Rodders books as a keepsake of the event. Rodney Legg will long be remembered in his literary works, May he rest in peace.
Stewart Canham
I cannot remember attending such an uplifting and inspiring funeral service. Canon Batty was able to give a really impressive address drawing our attention to so many areas of Rodney's remarkable life of campaigning and writing. Others were there because they had been on walks with Rodney or inspired by his books or were members of the Open Spaces Society. Two speakers from the National Trust emphasised that he really had made a considerable impact on their policy. It was also good to see how many had come from Wincanton. It was a beautiful summer afternoon, but the place itself made a huge impact. I heard so many say, "This is how it should be done and this is the place where I would like to go." I agree.

John Baxter