Wincanton's focused community website, providing news and information including a full calendar
News » Clubs/Associations » One Planet Wincanton
One Planet Wincanton visit to Brains Farm
Thursday 16 December 2021, 18:32
By John Baxter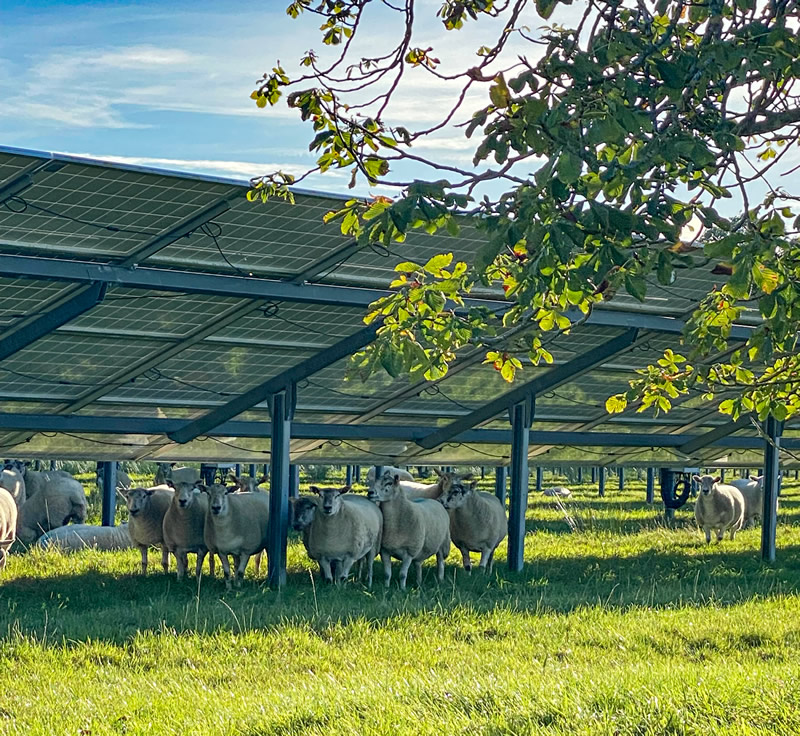 On the cold and windy afternoon of Friday 5th November 2021, five of us suitably booted and clad met Paul Phillips at the gate of Brains Farm which is just off Moor Lane. We were there for a tour some of us found a revelation.
Paul and his family have inherited and own several farms and this one he pointed out has been owned by families based in Wincanton for centuries. This perspective immediately made us town dwellers aware that for Paul he sees farmers as stewards of their land, something which outlives us all to be passed on in the best possible condition to the next generation rather than simply being an asset to be bought or sold for profit.
We came knowing that he has worked with the investment management business Next Energy who have received permission from South Somerset District Council to cover around seventy percent of this farm with solar panels producing 18.8 megawatts of electricity, and the remaining thirty percent to be devoted to trees and the promotion of biodiversity. With regard to his solar panels Paul pointed out that those on this farm are now providing approximately enough energy each year to power 6,240 homes locally, i.e. all of Wincanton.
While all this may be a good move in our efforts to reduce global warming and is in line with the Town Council's 2019 plan to tackle climate change, we wondered what the effect of these panels is having as they appear to be covering up large quantities of good agricultural land with great black metal panels.
Here we became aware that Paul is a farmer who takes the care of his land extremely seriously and has for some time been a member of the Soil Association of Organic Farmers. He feels that previously this farm was far too intensively farmed. He thinks there has been an over-use and unscientific use of fertilisers, chemicals and even manure and when this is added to the cattle and dairy farming that was carried out, the result was over-grazing which reduced the fertility of the soil.
Walking across an open field edged by a ditch and a hedge on our way to inspect the solar panels, Paul showed us a photo of his sheep taking shelter from the sun under the panels. He pointed out these stand well above ground level and provide ample grazing for his flock of five hundred. He also pointed out that after forty years of producing energy the panels are easily removed and the earth where they have been situated will be well rested and improved.
When we mentioned wind power he pointed out that not only is the land of the Blackmore Vale too low for land-based wind turbines, but he would be unhappy to see areas of his farmland covered with the deep concrete foundations wind turbines need and which are almost impossible to ever remove.
As we walked, he also drew our attention to the importance of the hedges for insects, birds and wild life. He also pointed to the number of ash trees around that are now infected with a deadly fungus and are dying back in a process that is ninety percent irreversible. He hopes that the surviving ten percent will produce a disease resistant strain which if widely planted might replenish what has been lost.
In fact Paul told us, by working with the Forestry Commission the farm has been planted with one hundred thousand trees of the right type for the soil and the area. This figure amazed us. He was also keen to show us areas where it is planned that "wilding" should take place. This will encourage native species of plants, insects, birds and wild-life to settle and proliferate, so promoting vital biodiversity across the board. He sees this happening far more on a farm which does not produce the almost constant noise of heavy agricultural machinery. Birds and wildlife do not like such noise.
Paul is also very keen that once this wilding is properly established parties of schoolchildren should be brought on visits. The farm rewilding area goes down to the riverbank of the River Cale and he wishes them to see the blossoming of wild plants, birds and animal species together with seeing the pollution discarded plastic causes coming down the river. He feels it is very important for town children to experience the farming countryside and what is being done on it.
Paul is keen to keep abreast of the latest science as applied to agriculture and sees farming entering a new phase with agricultural science working with nature and not against it. He pointed out to us a large barn area which he hopes will become the site for an Anaerobic Digestion Plant. This might take animal waste to produce useful gas and fertiliser. He suggested we come back to see and hear more about this once plans are approved.
Paul's knowledge and enthusiasm is infectious, and we left him with much to think about.