Wincanton's focused community website, providing news and information including a full calendar
News » Miscellaneous
NatWest "Closed 'till Further Notice" ?
Tuesday 7 December 2010, 15:34
By John Smith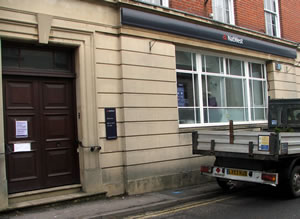 NatWest Bank is adorned by a notice advising that it is closed. At least I was advised last night that it said "Closed till further notice". Like any responsible NatWest account holder I was very concerned that Wincanton, albeit a growing town, had lost a major bank from our High Street.
Thankfully this is not the case. NatWest has suffered a major plumbing leak with burst pipe(s) and all the resultant damage such as ceilings, floors etc. I am sorely tempted to cheer, but as I have suffered the same problem myself I will hold back the laughter.
Instead I will say a huge thank you to NatWest for the very clear instructions that tell us all to go to their Castle Cary branch until this issue has been resolved. I have to say that, having been a client of NatWest for more than 30 years I would have expected more detailed information to help local clients with any financial dealings that they may require on a day to day basis till this crisis is over. Please do correct me if I am wrong on the following points.
With your usual NatWest debit card, or even MasterCard (though not recommended because of the charges) you can still use the NatWest "Hole in the Wall" for cash withdrawals. Indeed you can also use any of the other banks' cash point machines. I have been using Lloyds ATM for the last 12 months quite successfully. I believe that the ATM outside NatWest is also out of action, but that leaves the other High Street banks and the ATM's at Morrison's.
I believe (correct me if I am wrong) that you can pay in money using your normal pay-in slips at any other bank too.
So, whilst it may be a bit more hassle, I think that you can manage most things by using our local banks. It would have been nice if NatWest had told us this. But, if I am wrong, I hope someone will put me right.
My biggest gripe is that when our banks have a problem we, the mere clients, are left stranded with very poor information. When we want to ring someone to enquire what the problem is, we have to ring the dreaded central 0845 number where you get a well meaning person who is pretty much clueless as to the important issue. They seem incapable of handing you to someone who actually cares about you, the client.
Come on NatWest. Get your act together. Your clients deserve to be treated better than this, and given better information.
If I do have some of my information wrong, please let me know so that we can have The Window publish the facts for all concerned. If anyone else out there has information or comments to add, this is the place to do it. Log on to the Window and comment on this article, or submit your own. It's worth it. Spread the word.
John Smith
Chairman, Wincanton Businesses Together