Wincanton's focused community website, providing news and information including a full calendar
News » Miscellaneous
Looking for Wincanton 18th Century Delftware
Wednesday 11 May 2016, 23:14
By Fanny Charles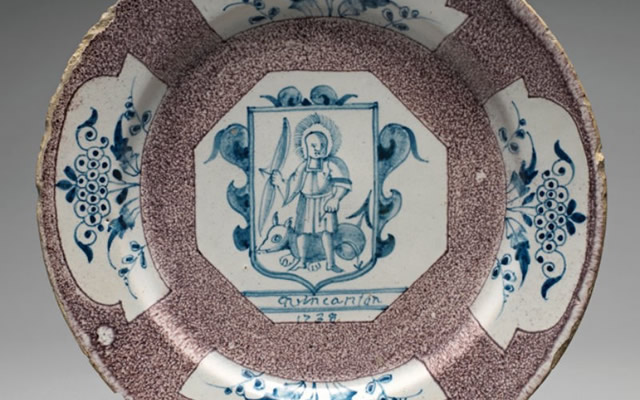 Do you have a piece of tin-glaze earthenware pottery from the Wincanton Pottery in your attic – if you have, Sarah FitzGerald would like to hear from you, because it may be a collectors' item.
In the mid-18th century, entrepreneur Nathaniel Ireson set up a tin-glaze earthenware pottery in Wincanton. The delftware dishes, bowls and plates it produced are covered in a dirty-looking opaque glaze and are naïve in design.
However, these historic pieces are rare and potentially valuable. Wincanton delftware pottery is on display in some of the most important national museums, and an ordinary plate, even with chips and cracks, can fetch around £200.
Historian Peter FitzGerald's soon-to be-published biography Nathaniel Ireson of Wincanton refers to the minutes from a Wincanton Field Club meeting held in 1890. These describe an exhibition of Ireson pottery held in the Town Hall in June that year. Interestingly, many of the exhibitors' names still feature locally, and it is possible their descendants have Wincanton delftware pieces lying unrecognised in their attics.
The plate shown is a typical Wincanton delftware plate with a manganese-sponged background and stylised 'mimosa' flowers in the flanges around the rim. However, cobalt blue was the most commonly used colour. The English tin-glaze earthenware was used by the "middling sort" – as the middle-class was then known – and many designs show the English potters' interpretation of the expensive Chinese porcelain imported from the Far East, which was used by the aristocracy.
Peter's wife Sarah researched and wrote the chapter on Wincanton delftware. She is keen to trace any forgotten pieces of Ireson pottery, and would be delighted to look at any pottery you might have that could be of this origin.
Sarah FitzGerald and earthenware experts will be at Wincanton Library between 10.30am and noon on Saturday 14th May. For more information, please call 01747 840895.
The book will raise money to replace the head of Ireson's 18th century statue in Wincanton parish churchyard. Peter has unearthed a mass of previously unknown information about this little-known hero of 18th century architecture, and his important contribution to English pottery.
Nathaniel Ireson of Wincanton, by Peter FitzGerald, published by Dovecot Press, will be released at the end of May. It will be available in Papertrees Bookshop at 33 High Street, Wincanton or you can order a copy directly on 01747 840895.