Wincanton's focused community website, providing news and information including a full calendar
Headlines » Clubs/Associations » Wincanton Twinning
Twinning Week in Lahnau 2nd - 9th August
Thursday 1 January 1970, 01:00
By Gill D'Arcy
Have you ever thought how much nicer and more interesting a holiday abroad could be if you had a chance to get to know local people and see how they live? Well that is exactly what 31 Wincantonians of the WLTA did this summer when we visited out twinned town Lahnau in Germany. Of course many of us had met our friends and hosts before, but for five of us this was the first visit.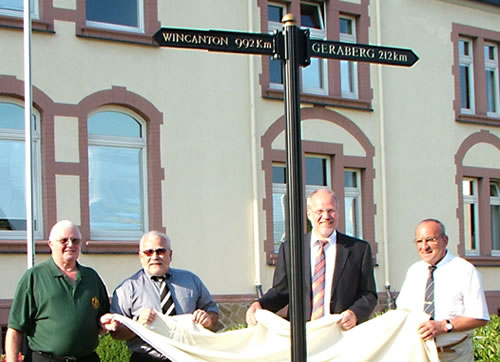 Philip Rodgers, Wincanton Chairman
Rudi Tonigold, Lahnau Chairman
Eckhard Schultz, Bergermeister Lahnau
Erich Haake, Deputy Bergermeister Geraberg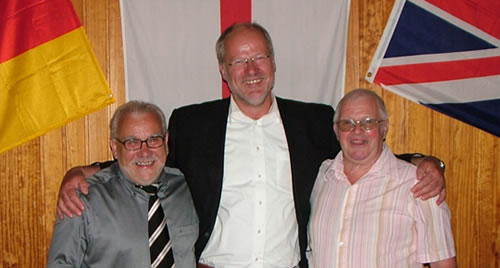 Rudi Tonigold, Eckhard Schultz, Philip Rodgers
Our hosts laid on a really good programme, including surprisingly a visit to an "English Garden" in Biebertal, a guided tour of the cathedral, town hall and palace gardens at Fulda, a visit to the ancient Kreuzberg monastery which also included a convivial visit to sample the local beer, a skittle evening (which they won!) and on the Friday a trip to Hoherodskopf where the attraction was the Summer Toboggan ride. Many of us took part and it got quite competitive. Everyone calmed down however when we went on to visit and sample the product of a small baking factory in Schotten. It specialises in chocolate covered marshmallow cakes. Very morish.
We also then attended the ceremonial unveiling of a signpost at the newly refurbished Town Hall in Dorlar by the Bergermeister of Lahnau, Eckhard Schultz, the Deputy of Geraberg Erich Haake, Lahnau Chairman Rudi Tonigold and Wincanton Chairman Philip Rodgers. This signpost shows that Lahnau is 992 KM form Wincanton and 212 KM from Geraberg both of its twin towns. This was followed by a very pleasant civic reception in the evening. And what about the weather? We were lucky. It was really hot and sunny so the outdoor BBQ in Dorlar was the perfect end to a great week
Tempted to join us? Next year we play hosts here and we would love to welcome new members who would like to join the association. To do so contact me on 01963 33160.
Gill D'Arcy, Secretary, WLTA.