Wincanton's focused community website, providing news and information including a full calendar
News » Clubs/Associations » Brue Valley Rotary Club
Hounds on the Hill Charity Walk
Wednesday 27 April 2016, 16:20
By Karen Harris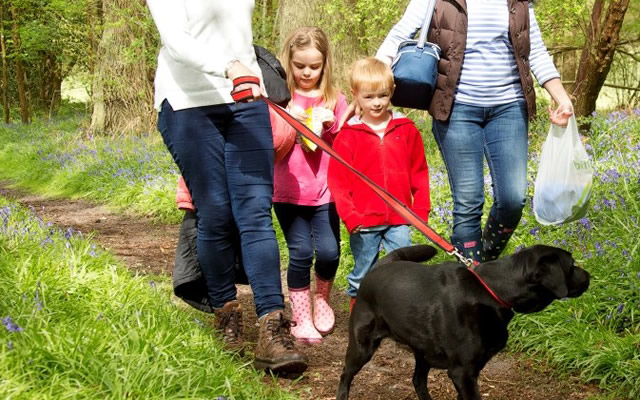 The Rotary Club of Brue Valley are pleased to invite you, your family, children, grandparents, work colleagues and of course your dogs, to this fun charity walk at Ham Hill Country Park. It will be taking place on Sunday 22nd May.
The walk starts from the Rangers station and follows a circular route with lots of activities to keep you all busy. Fill in the activity sheets and return them at the end of the walk for your chance to win some great prizes kindly donated by our sponsors.
Registration on the day is from 9.30am – 11.30am. Family tickets £12, for two adults and children under 16. Adult tickets are £6. Dogs are FREE.
Reductions are available for those who pre-register and pay in advance. Family tickets £10, £5 per adult. In order to pre-register complete the registration form and send it together with your cheque to: Brue Valley Rotary Club, Hounds on the Hill Walk, 1 Pleasant Villas, Woolston, North Cadbury, Yeovil, Somerset, BA22 7BJ. Cheques should be made payable to The Brue Valley Rotary Club Trust Fund.
On the day please park in any of the Ham Hill CP car parks and make your way to the registration desk to sign in and collect your route guide. Please do not use the car park belonging to the public house.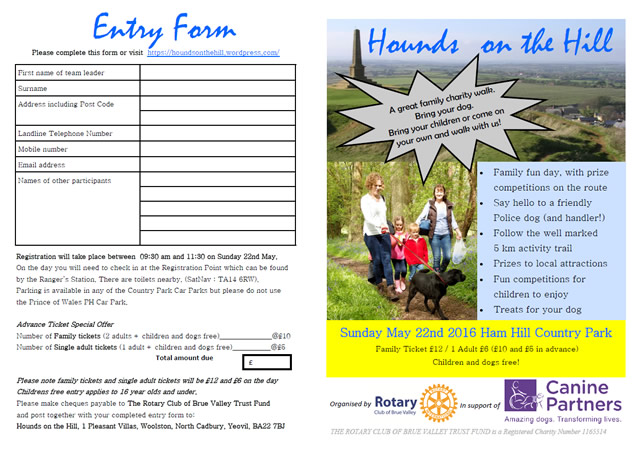 Click to download the leaflet which has additional information about the walk
Our nominated charity for the day, Canine Partners, does a fantastic job providing and training dogs to help people with all sorts of disabilities. They help to transform the lives of people, enabling them to be more independent.
The dogs are trained specifically for the person they are going to help. For example, some dogs are taught how to recognise when someone is about to have an epileptic fit. They can then alert the person so that they can get to a safe place, and the dog will stay with them and comfort them until the fit is over. The dogs build a huge bond with the people they help and allow them to have a better quality of life.
We would like to thank our sponsors for donating prizes for the day:
Abbotsbury Childrens Farm
Delaware Veterinary Practice
Fleet Air Arm Museum
Forde Abbey Historic House & Gardens
Hestercombe Gardens
Kingston Mauward College
The Tank Museum
Yeovil Railway Centre