Wincanton's focused community website, providing news and information including a full calendar
Headlines » Business
Henshaw Inflatables asked to help save a DUWK
Monday 6 January 2014, 19:00
By John Smith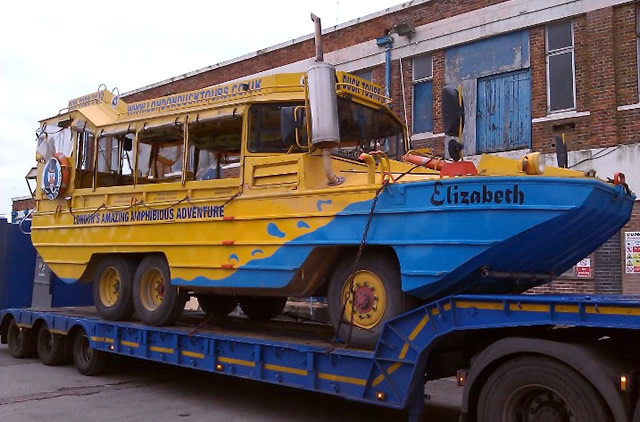 Henshaw Inflatables' reputation for excellence in the field of Rigid Inflatable Flotations has grown steadily since they started. They now deal with commercial organisations, defence organisations, and organisations like the RNLI worldwide. They export circa 70% of their total output. All their craft are designed, manufactured and shipped from their 30,000 sq.ft. factory here in Wincanton, where they employ 30 people.
The London Duck Tour company has approached Henshaws to find a floatation solution to comply with MCA (Maritime and Coastguard Agency) in response to some problems the vehicle has encountered.
Over the past year our TV screens showed the results of the Liverpool Duck (nothing to do with the London Duck) sinking, and more recently the London Duck on fire. Thankfully there were no fatal injuries. The London Duck Tour immediately suspended the water portion of their tour pending their search for a solution to the issue.
The idea is to use the craft cavities and sides to provide either a permanently active solution or one that is easily activated in the case of any emergency. So a Duck has been transported via low loader to Henshaws' site for investigations to begin.
Let's hope that Henshaws come up with an acceptable solution and that the London Duck can resume operations. Having done the tour I can assure you that it is great fun.
The History Bit
What is a London Duck? It's an affectionate name for the official "DUWK", an amphibious vehicle designed in 1945 in the USA by a British yacht designer, Dennis Puleston. DUWKs were used extensively during the Second World War to transfer equipment and personnel from ship to shore in many WWII beach fronts, including Normandy. Since then they've been employed in many civilian roles and now cruise the London landmarks as a tourist craft on the River Thames.
What DUKW stands for:
"D" indicated that it was designed in 1945
"U" meant that it was a utility vehicle
"K" indicated that it was front wheel drive
"W" indicated that there were two rear driving axles