Wincanton's focused community website, providing news and information including a full calendar
News » Miscellaneous
Fire Crew Rescues 400kg Cow from Cesspit in Templecombe
Wednesday 22 July 2015, 22:12
By Paul Slaven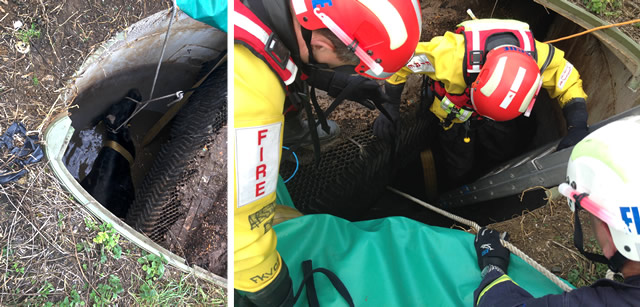 On Tuesday 21st July, a cow weighing approx 400kg fell into a domestic water treatment plant after breaking through protective fencing at Quarry Farm in Templecombe. She was rescued with the help of Devon and Somerset Fire & Rescue Service. The cow was trapped about 12 feet below ground level up to her neck in waste water.
Crews from Wincanton, Yeovil and a specialist rescue team from Bridgwater worked for over three hours to rescue the animal from her predicament.
The initial crews opened up the top of the treatment plant to gain access, emptied the plant using an LPP and the air quality was checked using a gas monitor before the specialist rescue team could enter to secure the animal.
Once the cow was secured with a head harness the crew supported a vet to administer sedative to calm the animal down. Finally the cow was lifted from the treatment plant with the help of the farmer and his tractor after fire fighters in dry suits battled to secure lifting strops in an extremely tight space.
After her rescue the cow took a while to recover from the sedative and trauma of her rescue; however she was on her feet and feeding by the time the crews had cleaned up ready to leave. We all hope that she will recover fully from her ordeal.