Wincanton's focused community website, providing news and information including a full calendar
News » Councils
Election Day 2015 Results
Friday 8 May 2015, 21:13
By John Smith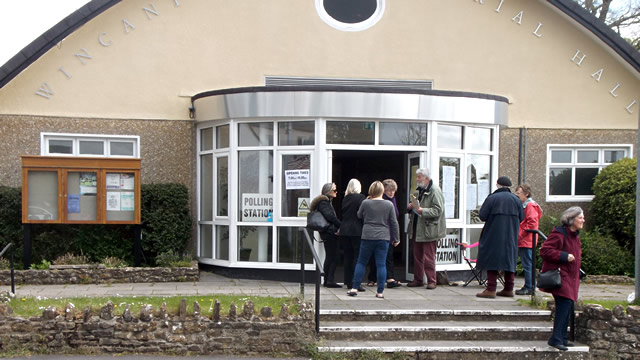 General Election Day started at the Memorial Hall, with doors opening at 7.00am. Voters arrived steadily throughout the day, right up to doors closing at 10.00pm. After that the waiting game started.
Local Elections
The Town Council results were the last to be declared. Some existing councillors were re-elected, along with five first-time councillors, who will bring fresh energy as the council heads into a new season.
Wincanton Town Council
Votes
Colin Winder
1319
Elected
Maureen Emery
915
Elected
Philip Rodgers
848
Elected
Dora Hibberd
845
Elected
Dawn Old
791
New Councillor
Sue Hinks
771
Elected
Howard Thurston Ellard
760
Elected
Mark Anthony Vallance
753
New Councillor
Mark Jeffrey Cook
723
Elected
Ray Tudgay
687
Elected
Dave Smith
646
New Councillor
Stewart Philip Wray
639
New Councillor
Helen Smith
636
New Councillor
Victoria Vagg
611
Elected
Lynda Walters
602
Elected
Jane Yolanda Griffin
561
Not elected
Martin Laurence Russell
538
Not elected
Simon Patrick Wiltshire
525
Not elected
John Edward Hayden
480
Not elected
District Elections
District - Wincanton Ward
Votes
Share
2011
Colin Winder
Conservative
1235
25%
963
Elected
Nick Colbert
Conservative
1231
25%
981
Elected
Tim Carroll
Liberal Democrats
821
17%
Not elected
Mark Anthony Vallance
UKIP
531
11%
Not elected
Sarah Elizabeth Denton
Liberal Democrats
512
11%
Not elected
John Holman
Green Party
307
6%
Not elected
Tim Daniel
Labour
223
5%
Not elected
In the District Council election, 4860 votes were cast (3055 in 2011).
Parliamentary Elections
The parliamentary election for Somerton & Frome (which includes Wincanton) was billed as a vital seat in the battle to get as close to a parliamentary majority as possible.
We learned today that David Warburton (Conservative) will represent Somerton and Frome as our Member of Parliament in Westminster. He succeeds the very popular David Heath (Liberal Democrat) who stood down from Parliament in the run up to the election.
Parliamentary - Somerset & Frome
Votes
Share
2011
David John Warburton
Conservative
31,960
53%
26,976
Elected
David Digby Rendel
Liberal Democrats
11,692
19%
28,793
Not elected
Alan Ivor Dimmick
UKIP
6439
11%
1,932
Not elected
Theo Simon
Green Party
5434
9%
Not elected
David Alan Oakensen
Labour
4419
7%
2,675
Not elected
Ian Paul Angell
Independent
365
1%
Not elected
A total of 60,309 votes were cast (60,612 in 2010).
National Politics
All the polls in the lead up to the election pointed to another hung parliament. The exit poll last night suggested otherwise, attracting scepticism from all parties. In a startling turn of events, and against all expectations, by this morning it was apparent that the Conservative Party would achieve a parliamentary majority.
| | |
| --- | --- |
| National Parliamentary Results | Seats |
| Conservative | 331 |
| Labour | 232 |
| SNP | 56 |
| DUP | 12 |
| Liberal Democrats | 8 |
| Plaid Cymru | 3 |
| UKIP | 1 |
| Green Party | 1 |