Wincanton's focused community website, providing news and information including a full calendar
News » Clubs/Associations » Brue Valley Rotary Club
Brue Valley Rotary Club Charity Concert on 12th February
Saturday 31 January 2015, 16:49
By Andrew de Mora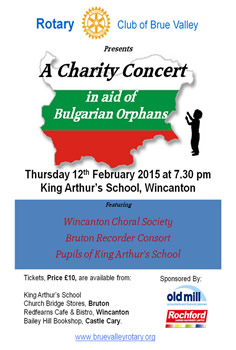 Brue Vallery Rotary Club presents a charty concert in aid of Bulgarian Orphans, on Thursday 12th February 2015 at 7.30pm, at King Arthur's School, Wincanton. The concert wil feature Wincanton Choral Society, Bruton Recorder Consort and pupils of King Arthur's School.
Tickets are £10 each and can be obtained from netaticket.co.uk, King Arthur's School, the Bruton Recorder Consort, the Wincanton Choral Society, Redfearns Cafe and Bistro in Wincanton, Church Bridge Stores in Bruton and Bailey Hill Bookshop in Castle Cary.
Bulgaria is the poorest country in the EU and their children's homes are populated by both orphans and abandoned children who get very little care or education, resulting in most leaving at age 16 without much chance of getting a job.
The boys often turn to crime and drugs and the girls to prostitution and are trafficked, or they have to resort to begging. Funds raised at this concert will be used by Brue Valley Rotary Club to help set up centres which will give these young adults a chance to obtain the life skills they need and to get a job once they leave the homes.
Brue Valley Rotary Club is working with the Trussell Trust (an established charity in the field) and the Rotary Club of Sophia International to establish these centres. This is where orphans can be taught life skills, gain work experience and receive care and mentoring so that they can move into employment or further education to escape what would otherwise be their fate.
The concert will provide a lively evening of some of the favourite pieces of the performers, providing a range of music and song. Wine and nibbles will ensure a sociable and enjoyable evening for all.
Further information is available on the Brue Valley Rotary Club website or contact Andrew Davies on 07968 380101.