Wincanton's focused community website, providing news and information including a full calendar
News » Miscellaneous
BBC Somerset Bus Visits Wincanton
Thursday 23 February 2012, 10:50
By John Smith
This morning BBC Somerset are broadcasting live from Wincanton. The BBC Somerset Bus is parked in the Morrison's car park and Emma Britton will be presenting her radio show live from 9.00-12.00. There will also be regular live items on the town into the Matt Faulkner Breakfast show which is on air from 6.30-9.00. Tune in via 95.5 FM, 1566 AM or online at www.bbc.co.uk/somerset.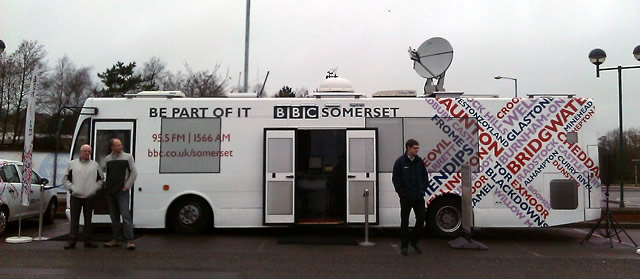 It's great to have the media taking an interest in our town and what happens here. It's very sad that this visit is in the main prompted as a follow-up to the closure of Adams Cheese Packing plant here in Wincanton. However I believe that they will be speaking to a number of local residents about differing issues throughout the morning.
When I was contacted about this visit on Monday I advised the BBC that I was disappointed that the bus would not be based in one of our free car parks in the High Street. They told me they had to put the bus where the best satellite signal could be obtained so that the broadcast would be clear and uninterrupted. The site also had to be level. I guess that knocks out Churchfields and Carrington Way. But the last time I looked the Memorial Car park was level, and I can't remember any obstacles that would interfere with a satellite signal.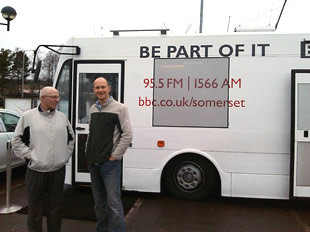 I had a further call from the BBC to discuss this and I assure them that if we had more advanced notice in the future that we can work with them to make sure the right site is found and that we get the best response for our town. It's important that we maximise these rare occasions to get the good name of Wincanton out there and let folk know that this town is a great town and an interesting town with a lot to offer visitors.
So if you happen to be passing why not walk past the bus and wave to Emma? Give the BBC a big Wincanton welcome.
John Smith
Chairman, Wincanton Businesses Together (WBT)