Wincanton's focused community website, providing news and information including a full calendar
News » Business » Wincanton Chamber
Adams Cheese Factory Staff May Face a Bleak Christmas
Friday 16 December 2011, 12:58
By John Smith
All over the country, towns, businesses and organisations are in festive mood. Christmas parties are being arranged. Wincanton had its biggest and best Extravaganza ever with more than three thousand people attending during the evening. It was a cracking night and lots of fun enjoyed by all.
But sadly, Christmas 2011 already has a dark cloud hanging over it for at least 180 workers at the Adams Foods cheese packing plant. I had a call recently from David Woodland of ITV inviting me to attend an interview at Adams that evening. He wanted Wincanton Businesses Together's reaction to the possible closure of this packing facility.
Speaking with Ian Toal, the Chief Executive of Adams Foods, on site he told us that Adam's was conducting a review of their whole business. This was needed because our country, like Europe and most other advanced countries is in the grip of a deep financial crisis. Listening to the news brings no relief; in fact, quite the opposite. It seems that past years of bad government spending is now catching up with us all.
In any time of recession sensible companies conduct reviews of their trading status and financial health. The goal is to make it through to the other end and still be trading and employing people. That's what Adams is doing.
Even in the short period of time since this press release, the rumour mill has jumped into action spreading the word that:
Adams had already shut the Wincanton operation.
Wyke Cheese is also laying off workers.
WBT has been in touch with Ian and Wyke and we are assured that this is totally false. The Adams Review will not be complete until sometime in February 2012. Ian assures us that Adams Wincanton is working as normal, and will continue as normal until the review is complete.
WBT also contacted Wyke and they assured us that there are no such plans to lay off workers. We are doing our best to keep up to date with both companies and as we get news we will try to pass this on where appropriate.
This is most definitely not the news that you want to hear on the run up to Christmas. This puts a dampener on any festive thoughts. This was a stark reminder that whether we are in the Euro or not, the UK has to cope with the knock-on effects of the current Eurozone crisis.
We are clearly in troubled financial times, and as always we see the vast majority of prudent companies revisiting their cost structures. When times are good and profits healthy, business tends to ease the pressures by employing more and more workers. This is a nice situation to be in. However when times get hard they all look at costs and realise that they really don't need as many employees. All the niceties come to a shuddering halt. Enter redundancy stage left. This is the unacceptable face of business.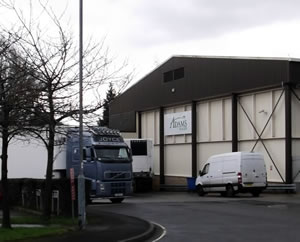 I don't envy Ian Toal's job in any way, shape, or form on this issue. But why pick on Wincanton? After all Adams is a massive company, part of the Kerrygold group. From what Ian was saying we assume that this review is not just a review of the Wincanton operation. This is most likely a review of the whole company structure/operation. Adams has not long completed the construction of a £27 million plant in Leek in Staffordshire. This new, state of the art plant has spare capacity, and if the review supports this, it probably means that the packing facility in Wincanton would be absorbed into the Leek facility.
This is not an easy issue for anyone to deal with, and Ian has had the courage and integrity to come to Wincanton and face the workforce in person. He has to look at the overall picture and make the best possible use of Adams resources to make that company as efficient as possible. That is the only way to survive such hard times. It would be nice to accuse Adams of being cold and callous, but that would be wrong. At this time all we can do now is to wait for the completion of the review, and hope that along the way a solution is found that keeps the plant in Wincanton.
We have a partial solution in that there are 50 new jobs available at the plant in Leek, Staffordshire, but that still leaves 130 workers who may now be looking at Christmas through very different lenses. Far from being a time of happiness and celebration, 130 workers will be looking at this annual time with uncertainty and fear of the unknown.
I appeal to all the businesses in and around our community to contact Adams or WBT if you have any unfilled job vacancies. We also need to have all our local/regional authorities on board to provide any assistance that they can. We need to have The Somerset Chamber of Commerce on board to help us in any way they can. This is not a time for feeling sorry or sad for those whose jobs may be on the way out. This is a time for action. We need action to find at least 130 jobs for those whose jobs are under threat.
So if you can help, get in touch with Adams, or contact WBT at www.wincantonbusiness.co.uk, and we will pass on all information to Adams.