Wincanton's focused community website, providing news and information including a full calendar
News » Miscellaneous
A Pair of Boots Arrive in Wincanton on Their Final Journey
Wednesday 16 October 2013, 14:01
By Roger Lowe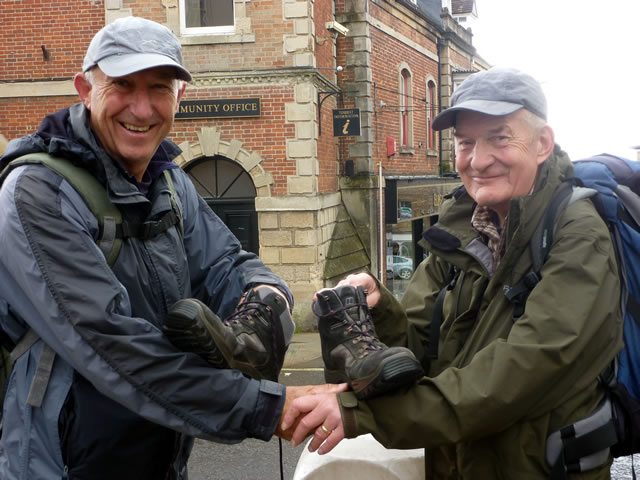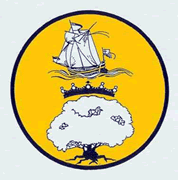 One of the best known stories in British history is that of the escape of Charles II after the Battle of Worcester in 1651. For six exciting weeks, and hotly pursued by the Parliamentary forces under Oliver Cromwell, he travelled first north, then south through the Cotswolds and the Mendips to the South Coast, and finally along the South Downs to Shoreham where he made his escape to France. Loyally supported by his followers, many at great risk to their own lives, he was given shelter in places both great and humble, many of which still exist today.
The Monarch's Way is a long distance walk (615 miles) using footpaths and bridleways and it closely follows the route believed to have been taken by Charles. The walk was created by Trevor Antill prior to 2004 and he continued to walk this route regularly over the succeeding years. He set up a series of 'Minders', volunteers to look after and to keep a watchful eye on the path, and the Monarch's Way Association for all those who share his interest and for those who wished to walk the Monarch's Way.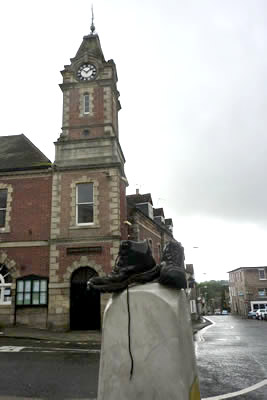 Sadly, Trevor died unexpectedly on Sunday, 29th August 2010.
As a token of their respect for Trevor Antill, the Minders of the Monarch's Way Association are carrying Trevor's Boots for one last time along the full length of the Monarch's Way. On Thursday, 19th September, the boots were carried from Charlton Horethorne to Wincanton by Brian Gould, minder of this section, and handed over to Roger and Janet Lowe who are the minders for the section of the walk from Wincanton to Hindon.
We intend to have another celebration day when Trevor's Boots are carried on the last section of The Monarch's Way which is from Brighton into Shoreham (a distance of around 5 miles). This will be on the 17th May 2014.
Further information may be found on The Monarch's Way website.