Wincanton's focused community website, providing news and information including a full calendar
News » Miscellaneous
A Heart-Warming Tale of a Lost Dog & a Good Samaritan
Monday 28 April 2014, 13:12
By John Smith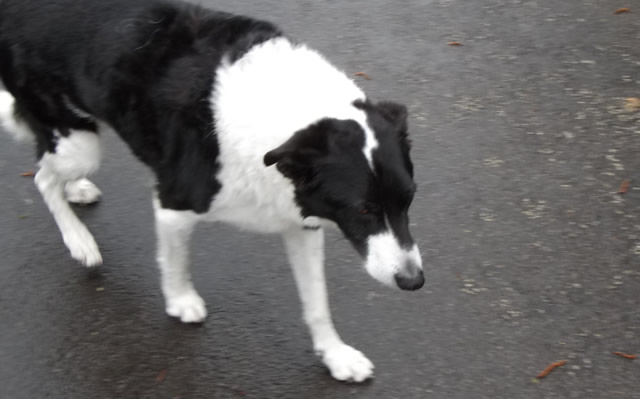 Jill and Terry Chambers have a 13½ year old Border Collie. He's no spring chicken. In human years he's probably about 90 years old, so we'll forgive him if he seems a little stiff in his movements. The dog is also deaf, unable to hear noises that we all take for granted. Jill and Terry moved to Wincanton from Coventry five months ago. Last week the dog was in their back garden early in the morning.
Somehow he managed to get through a gap in the fence at the rear, lost his footing and tumbled down the steep bank shown in the photo below. That alone could have been fatal for a dog of his years. Probably dazed and in shock, he walked for two miles along Verrington Lane.
In the meantime, Jill and Terry discovered that he was missing and started to search for him where they would normally walk him. They also asked people they met (writer included) to keep an eye open for an elderly, deaf border collie. One of their neighbours spent several hours searching with Jill and Terry. It's fair to say that the word was out there, even on Facebook.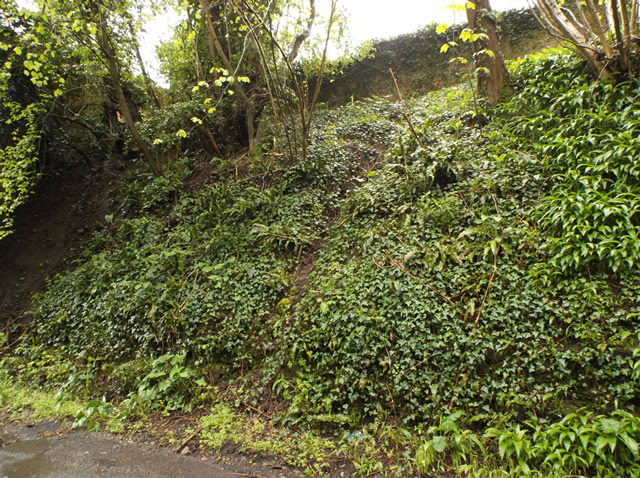 Meanwhile, two miles along Verrington Lane, well outside the normal walking route, it's around 7.00am and while walking on the grass verge our canine geriatric loses his grip and falls down into a deep ditch, full of water. Thankfully he lands on a small ledge just short of the water. He is lying down, weak and exhausted. That's why a passing horse rider mistook him for a dead badger.
Back in Wincanton Gordon Kiddle of Rickhayes is setting out for his daily nine mile cycle ride. He knows nothing of the missing dog and the role he is about to play. Gordon's normal route takes him past the missing dog, lying in the ditch on the opposite side of the road. But thankfully Gordon comes back to Wincanton the same way later on, and spots the assumed dead badger lying in the ditch.
It should be noted at this point that Gordon is retired and in his 70s. Gordon climbs down to the exhausted dog, removes his trouser belt and loops it through the dog's collar. He then helps the dog out of the ditch to terra firma. A picture of what follows would have been priceless, but we'll have to leave it to your imagination.
Gordon slowly walks the dog back to Wincanton using his trouser belt as a dog leash in one hand, holding his cycle in the other hand, and hoping that minus the belt, his trousers will stay up. On the way back he meets the rider who thought that the dog was a dead badger. After a few enquiries Gordon and man's best friend reach home base and a much relieved Jill and Terry.
All this happened over Easter, the major Christian season of the year. But in this instance the more appropriate bible story would be that of The Good Samaritan. There is no doubt that Gordon is very much the Good Samaritan in this amazing story about a lost dog. Jill and Terry have been overwhelmed by the support and help that they got when their dog went missing and want to thank all who helped in any way.
By the way what do you think our intrepid dog's name is? It should be LUCKY, but his name is Parker. Maybe a name change by dog poll could be in order. There is no doubt that Parker is truly one lucky dog.