Wincanton's focused community website, providing news and information including a full calendar
News » Clubs/Associations
2nd Templecombe Scout Group – Exciting & Fun Activities for Children
Friday 13 June 2014, 14:20
By Alice Macey, Age 11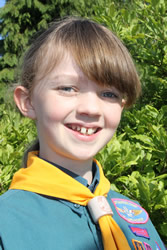 2nd Templecombe Scout Group has very active Beaver, Cub and Scout Sections including the Camelot District Explorers. I have been involved with the group for three years, joining as a Cub and moving on to Scouts last summer. We have a good mixture of Girls and Boys who get involved in a wide variety of activities.
Last summer we went to Jersey for a week's camp where I was invested as a scout. We spent the week doing traditional scout activities such as hiking along the costal path as well as being involved in the community by helping out with the Battle of the Flowers.
Some older scouts have had the opportunity to travel abroad, such as attending last year's Australian Jamboree and the World Jamboree in Sweden in 2012. This summer Australian and Canadian Scout Groups will be visiting us for three weeks. During their time here they will be exploring the local district, visiting places like Stonehenge, The Fleet Arm Museum and staying on Brownsea Island for a night.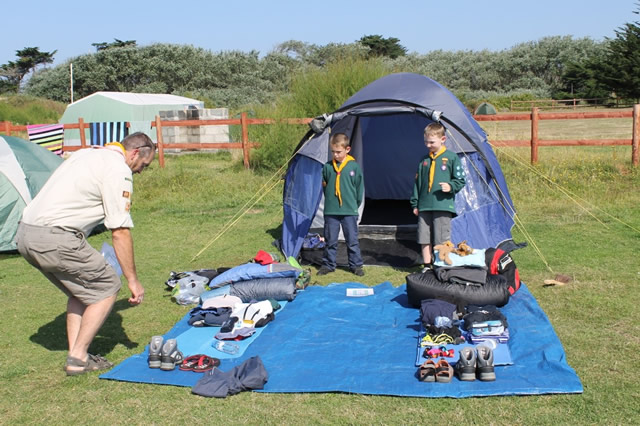 Two Cubs having a kit inspection at the Jersey Camp
The group has recently held a cycling weekend camp at Bradford on Avon, for cubs and scouts, where many of us achieved our cycling badge as we cycled over 46 miles in two days along the towpaths to Bath and to Calne Locks. Those who did not cycle hiked and visited the Bradford on Avon's Tithe Barn.
Recently some scouts and explorer scouts (including me) had the opportunity to attend the Flying Camp at Henstridge Air Field, where we learnt about why the weather is important to pilots, how to navigate a plane and air field safety. We even got the opportunity to practice our navigation skills in flight!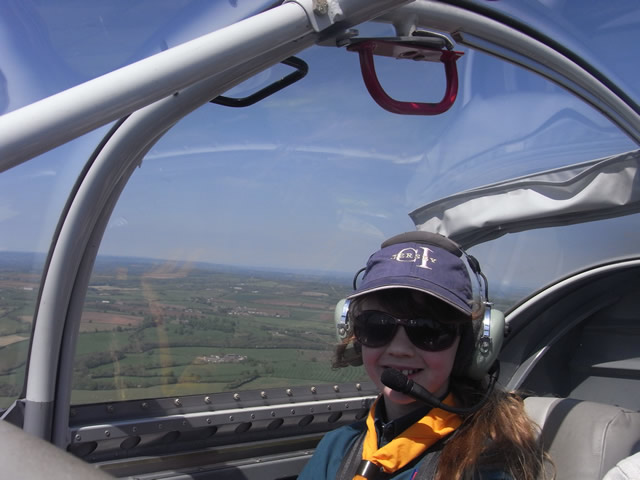 Flying Camp, Henstridge Air Field
Beavers, for the 6 to 8 year olds meet Monday afternoons after school, and they work towards their badges such as adventure, hobbies and safety, play games and have held a sponsored silence. Cubs, for the 8 to 10 ½ year olds, meet Wednesday evenings and cook on gas and open fires, make bird feeders, play games and have learnt about the solar system.
I am invested in to the scout section, we meet Thursday nights and I have been trekking in the woods, cooked on open fires, hiked around Portland Bill and represented the group in the Camelot District Shooting Competition. The scouts have also learnt about prison life, visited Sherborne fire station and doing a first aid course.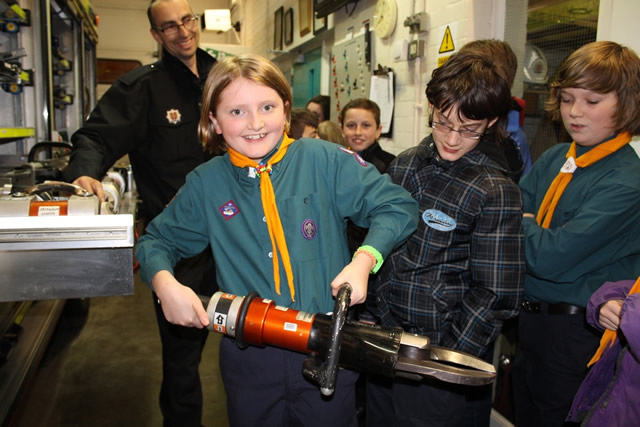 A visit to Sherborne Fire Station
You may have seen us around when we were bag packing in Morrison's, delivering Christmas cards or at one of our bingo nights. We are a busy group but we all have a lot of fun.
If you want to come along to see what we do speak to Bryan 07929 391921, Geoff (Scouts) 07976 885130, Andy (Cubs) 07929 945418, or Maria (Beavers) 07885 987350.