Wincanton's focused community website, providing news and information including a full calendar
News » Events » Christmas » Christmas Extravaganza
Wincanton Christmas Extravaganza 2013 – Another Great Success
Monday 16 December 2013, 16:45
By John Smith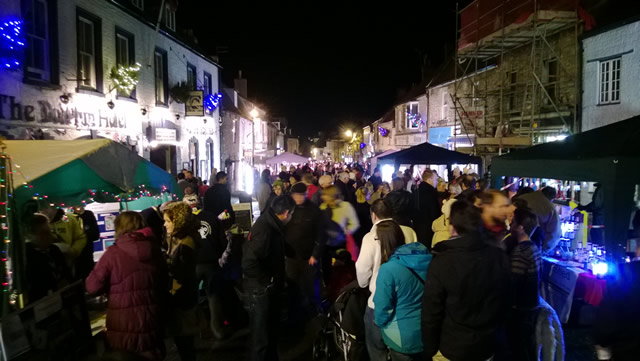 On Friday 6th December volunteers were on the ground from 3.00pm co-ordinating the Christmas Extravaganza. The team was equal to all the usual challenges.
Our event marshals, Bradson's, ensured that the road closure/diversion signs were up at the appropriate time and our team showed stall holders to their pitches. Our Town Crier and his lovely wife were in their splendid regalia for the evening, and Father Christmas and his elf were ready to greet all the kids who came to the Extravaganza.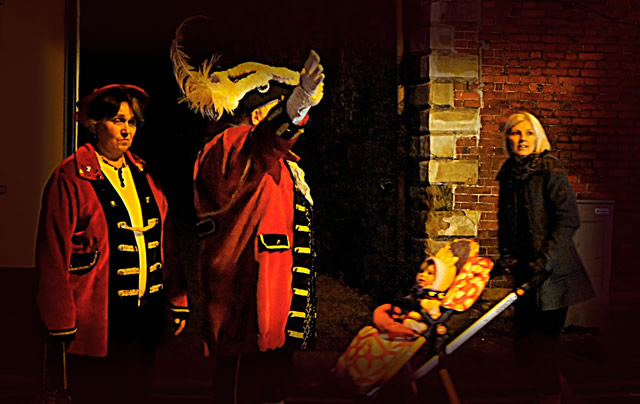 With the market stalls set up and trading, people started to arrive. At first it seemed the people arriving were last minute High Street shoppers who would then head home for tea and put their feet up in front of the TV. However that trickle grew, and grew and grew, and by 6.00pm from Market Place to the top of the High Street was heaving with happy people enjoying the evening. That brought a great sense of relief and satisfaction to the Wincanton Businesses Together team. It's clear that the people of Wincanton have taken this event to heart.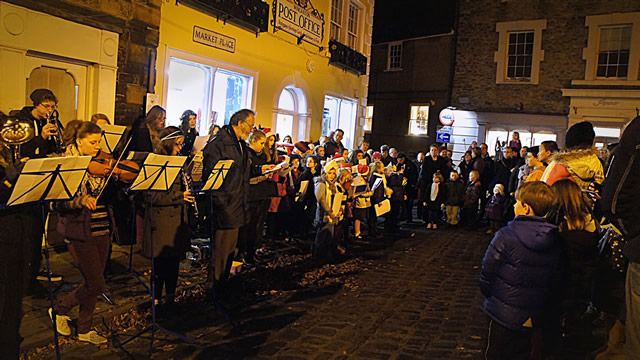 At 6.30pm our Town Mayor Deryck Lemon performed his first switching on of the Christmas lights ceremony surrounded by an amazing crowd that had been singing carols around the town tree since 6.00pm. Led by musicians and singers from King Arthur's and other local schools, a large crowd was in great voice. Due to the growing popularity of this part of the event WBT had to arrange a one hour road closure for Mill Street to maintain safety for the carol singers. It was an amazing sight.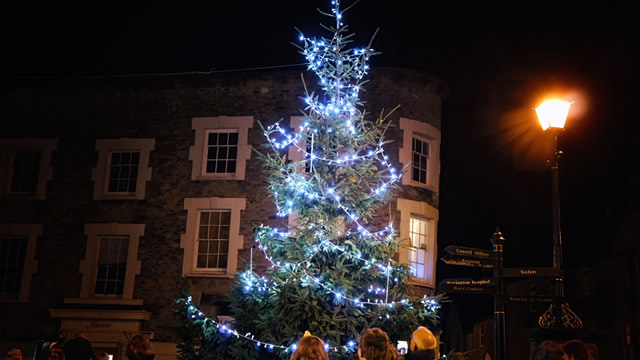 Our special guest for the evening was Daryl Jacobs, the famous National Hunt jockey who rides for Paul Nichols. Daryl was spotted watching the Rudolf Rodeo. Rumour has it Daryl declined to bring his professional expertise to the exercise, citing a shoulder injury, but there again, Rudolph did look a bit scary (only kidding Daryl... hope the shoulder gets well soon).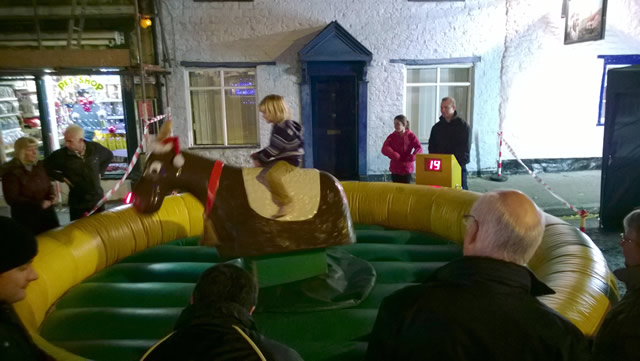 Papertrees was also in the thick of it, sponsoring several Extravaganza competitions. Proprietor Adrian Ollerton had best-selling author Tobias Jones signing copies of his six books. He and Daryl Jacobs were also co-opted to present competition prizes. However it seems that our prize-winners had moved on before a proper presentation could be made.
Guess the number of sweets in the Jar

Congratulations to Lucas Harvey from Zeals on winning this huge jar of sweets. We hope that you'll be sharing them with the family. Well, maybe.

Congratulations to Andy Whitmarsh for winning an equally big jar of sweets. We suggest that Andy could be very popular at home through Christmas.

Town Centre Treasure Hunt

Congratulations to Carol on winning the Papertrees Town Centre Treasure Hunt. A £20 book token should bring you some fresh material.
So if you prize-winners didn't stay behind to collect your prizes please contact Adrian at Papertrees before he and the staff eat the sweets and nab the book.
The feedback from the evening was excellent and we may have had our best attendance with many visitors from other areas joining in. We hope that this annual event plus the monthly street markets will lead to a growing number of visitors to Wincanton.
As WBT chairman, I'd like to express my thanks and gratitude to the team of volunteers who helped to plan and execute the 2013 event. They were all brilliant. We are all looking forward to 2014.
If you attended the event and took pictures please e-mail us a copy so they can be added to the gallery below. The initial library of pictures was supplied by Chris Stovell.