Wincanton's focused community website, providing news and information including a full calendar
News » Events » Christmas » Christmas Extravaganza
Wincanton's Best Extravaganza! See the Pictures, Read All About It - NEW VIDEO
Thursday 8 December 2011, 02:17
By John Baxter, Suzy Turner-Wilkinson
Jump down to the gallery, including the NEW VIDEO from Transition Vision!
John Baxter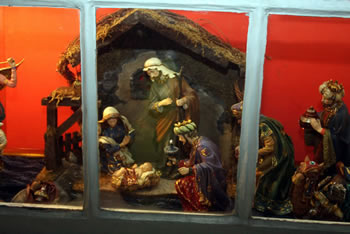 Despite or perhaps because of all the talk of doom and gloom this week, the hardy people of Wincanton braved a cold, dark evening to come out on the street in the largest numbers ever.
Beginning with the enthusiastic singing of Christmas carols led by the choir and musicians of King Arthurs and supported by parents and pupils from the primary schools, a record number of people gathered around the Christmas tree. The high point was the switching on of the lights by our mayor Colin Winder, after which people moved up the High Street to partake of mince pies and mulled wine being offered by many of the High Street traders. Business was brisk as they displayed their wares and chatted to customers.
Further up, the High Street was closed off for the travelling market that was offering a wide range of food and gifts. At the top of the town there was also an impressive climbing wall and bouncy castle for the younger visitors.
There was a great atmosphere as everyone bumped into other people they knew or settled into our many hostelries for a drink or a meal in what w as clearly a really enjoyable and successful evening. John Smith and Suzi Turner-Wilcockson of Wincanton Businesses Together deserve the thanks of all of us for their vision, energy and organisation.
Suzy Turner-Wilcockson
Back in June I was asked if I would be willing to help organize the Extravaganza. When they said "help" I didn't realise how much that would be. Now, I have never done anything like this before, so the thought of being involved in such a big event was rather daunting. I started by looking through the notes from last year to see what was done then and try and use the information on hand to get things moving.
The road closure was already arranged but there was nothing to fill the space. Working with the committee, Steve Stapleton suggested we approach the Anonymous Travelling Market as a crowd-puller. The committee agreed and a meeting was arranged for the ATM to walk the street to see what they could do. We were delighted when they agreed to come and add some magic to the evening.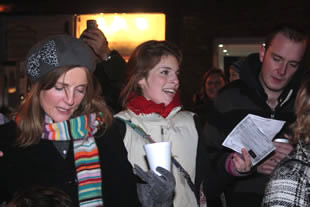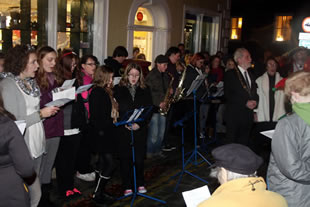 In the meantime I had to send lots of letters and emails to local businesses to ask for their help and involvement in the event. This meant walking the streets encouraging as many local businesses to support the event as possible, by advertising in the programme, staying open late for the evening or providing entertainment for the evening. We want to thank all the businesses who supported us and took part. They got involved and made the evening that much better. We want to give particular thanks to The Wincanton Print Company for sponsoring our event programme. They have been a solid support since our first event. YHC Hire Solutions sponsored the street lighting which was so much better this year. People were able to walk about the road closure and see all the delights of the market. Thanks go to Vale Signs for generously updating our signs for the event. Otter Nurseries provided gifts for Santa along with some decorations for the Grotto. 5 Star Celebrations also stepped up to the plate and provided some funky twinkly lighting. Big thanks to all the local businesses who advertised in our programme. Without all our sponsors and donors this event simply wouldn't take place.
We also need to acknowledge with thanks the input from both Town and District Councils. They have both supported us financially and with back-up where needed. This was a genuine partnership. In particular we teamed up with the Town Council for the ceremony to switch on the town's tree lights.
Friday December 2nd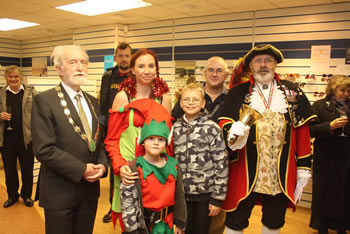 The big day has arrived and I'm panicking that there are things I haven't sorted that I should have done but it is too late now, all systems are go. I spent the morning building the grotto for Santa trying to make it a magical place for the children to go. The road was closed at 4.00pm and chaos erupted as all the stall holders arrived to set up. Everybody was busy and the air of excitement and anticipation for the night was tangible.
At 5.30pm we all met at Sarah Gibson Optometrists (HQ for the event) for the Mayor's reception. Here we had a real mixture of guests and representatives from the press. It was also a nice warm place to wait.
Meanwhile, up the road at Carrington Way the country dancers from Wincanton Primary School were putting on a fantastic display which was followed by the school Glee club performing carols. The whole display gave a magical Christmas and community feel to the night. Proud parents stood watching side by side in a good crowd soaking up the atmosphere.
As you walked up and down the High Street people were busy looking at all the wonderful stalls, happily chatting about what a wonderful evening it was and how the array of stalls was a great boost to the evening. At 6.15pm the Christmas music was enhanced by the children from King Arthurs providing music for carols round the tree at Market Place. They were excellent. This was led by Rev Nigel Feaver and Wincanton Churches Together and was supported by a very large crowd (the biggest yet by far). There was a wonderful feeling of togetherness around the tree singing and getting ready for the lights to be turned on by our Mayor, Colin Winder. Unfortunately most were unable to hear his Christmas speech because of surrounding noise. We need a PA system for next year so that all can hear. All held their breath as we waited with anticipation for the lights to twinkle into the night which they did.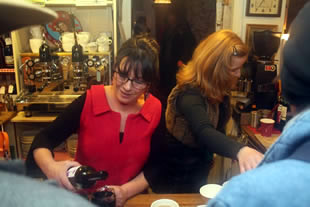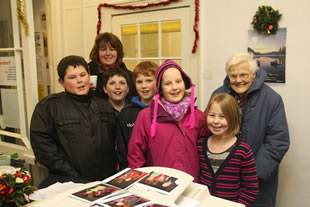 From there Santa, (along with me as his elf) like the pied piper headed to his Grotto, based at the local Baptist Church Hall in Mill Street. He was followed by a river of parents and children following him to the grotto only to find that there was already a large queue waiting for us. For an hour and a half there was a never-ending stream of excited children waiting patiently for their turn with Santa. Some got their faces painted by Delightful Faces owner Nikk. As I stood there helping Santa I had the chance to talk to the parents. Every single parent or guardian I spoke to was enthusing about what an amazing Extravaganza this year was, I went from feeling panicky and nervous about the event to feeling so proud that I was involved in organizing such a brilliant event.
An Interruption from the WBT Chairman:
I'm sure that you have gathered by now that most of this article was written by Suzy. I hope I don't embarrass her, but I wanted to make sure that people knew just how hard this amazing lady has worked this year. As Chairman of Wincanton Businesses Together, all I need to do is to try and motivate and talk a lot. I can manage this. But Suzy has joined us at WBT, albeit that she has nothing to do with business. Her simple desire was to get involved in our community.
In the short time she has been in Wincanton she has volunteered to be secretary of the Wincanton People's Plan and I then press ganged her into becoming my secretary at WBT. This year's event is the biggest and best we have organised since we started some four or five years ago. We had a template to work from, but even with that we were breaking new ground and it was mainly down to Suzy's unending energy that this whole event came together. Without her input this event would simply not have happened. I certainly hope that she will be part of the team for a long time to come. That said, it's unfair that someone should end up shouldering so much of the burden. WBT has several plans for other events that would be great for the town. However, it all depends on people (businesses and others) standing up to the plate.
So we invite our business community to join WBT and get involved. We also want to hear from members of the residential community who would like to help. We need people who care enough to get involved. There is much work to be done, but the helpers are few. We need many more Suzy's.
---
Extravaganza Gallery

With kind permission from Transition Vision