Wincanton's focused community website, providing news and information including a full calendar
News » Events » Christmas » Christmas Extravaganza
The Christmas Extravaganza is Almost Upon Us!
Thursday 9 December 2010, 13:05
By John Smith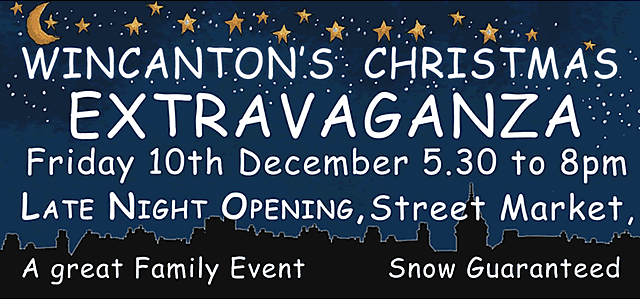 The eagerly awaited Christmas Extravaganza is taking place in Wincanton High Street, plus other venues near the town centre. In fact check out the whole town. I expect that there are things going on that even we don't know about!
Despite fleeting panic attacks when I think of what still needs to be done I believe that the 2010 Extravaganza will be great. We will have lots of fun. We have a good selection of shops, stalls and fun entertainment. With Father Christmas on board how can we fail?
I am hoping and praying that we will have lots of children in fancy dress. If all goes to plan we can parade down the High Street to Father Christmas's Grotto. Now there's a thought. Please note that all children in fancy dress should meet at 6.00pm at the top St Margaret's Hospice shop (next to Wild Cardz) to be judged, and then follow Father Christmas to the Grotto.
Staying with our young people, don't forget the "Weird and Wonderful" pictures of Wincanton. Last year we saw a wonderful selection of amazing pictures. Maybe we can see even more this year. Come to The Town Hall and see your pictures projected onto a big screen. Don't forget to bring your parents so that they can see how amazing you are (and your pictures). This has become a major part of our Extravaganza, so keep it up.
Weird & Wonderful Photography Venue: Town Hall, between 7pm and 7:30pm. Don't miss it!
We'll have a few of our annual favourites:
Dave and Joan on the Victorian barrel organ at Market place by the main tree.
Vernon Page with his Magic Lantern at the Museum.
Watch out for our local police force. Rumour has it that they have arrested a prominent local figure who needs bailing out.
We will also have some new entertainment.
Sports Competition:
Call at Sarah Gibson's Optometrist (opticians, if you're old fashioned like me) and try the rowing competition. How fit are you? The Sports Centre is giving great prizes and deals. They are eye-watering.
Help Create A Living Art Masterpiece:
John and Pam Ironmonger invite you to visit their new gallery, Ironmonger-Sibthorpe, in Market place. There you will be able to pick up a pencil and draw your own small picture and sign it.
Effectively John and Pam are creating a huge town Christmas card that everyone can contribute to and sign. I hope that you will all agree with me when I say that I think this is a great idea. So drop in and add your own artwork and signature. Say Happy Christmas to Wincanton and sign it.
Wild Animals:
I hear a strong rumour that there may be one or two monkeys about. So make sure all you wild animal lovers are there and don't miss out. I think that there will also be a cuddly puppy from Guide Dogs for the Blind, and one rather dubious guide dog wandering around. Don't lose out. Make sure you get your cuddle during the night.
Goodness me. Even more animals! We have the Grey Hound Trust with us too. You might have to be quick to catch them though.
Programme:
A huge thanks to the team at Wincanton Print who have yet again given us a magnificent programme. They have coped brilliantly with all our comings and goings. They are amazing and support his community event.
Town & District Councils:
We want to thank these guys because since we started this event they have stood by and supported us. We couldn't put this event on without their support and guidance. So a huge thanks to Sam, Muriel, Pam, Helen, and I am sure others too.
For information contact us on 01963 34327 or