Wincanton's focused community website, providing news and information including a full calendar
News » Events » Christmas » Christmas Extravaganza
Wincanton Christmas Extravaganza 11th December 2009
Thursday 1 January 1970, 01:00
By Mandy Cochrane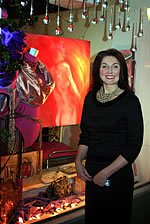 It's back! The Third Annual Wincanton Christmas Extravaganza takes place on Friday 11 December and we hope it's going to be bigger and better than ever! On its way to becoming a popular annual tradition in the town, we're hoping to see more visitors than ever coming to our town and realising what a great place it is to go shopping.
Wincanton High Street will be closed between Carrington Way and Memorial Hall car park (full access to both car parks remains) between 4.00pm and 9.00pm, with the Extravaganza taking place between 5.30pm and 8.00pm.
As usual, the focus will be on late night shopping and festive entertainment, with some of the attractions as follows:
High Street shop and Market Traders open for business, Live broadcast by Mid West Radio, Refreshments, Climbing Wall, Santa's Grotto, Costume parade by Wincanton Amateur Dramatics, Fancy Dress Competition, Treasure Trail, Best Dressed Window Competition, Street Organ, Silver Band, Wincanton Churches Together Christmas Carols, Guaranteed Snow!
A prominent town character to be held for ransom! (fundraiser)
The Police and Fire Brigade have been approached to bring vehicles along
Demonstration from the Dance School

As with all events of this kind, there is a significant cost to the organisers in setting up and running the event. We have to rely heavily upon the goodwill of the shopkeepers and business owners of the town to help with these costs. This year we need to raise over £2,000 to cover costs.
If you run a business in the High Street, a committee member from Wincanton Businesses Together or a representative from SSDC will be along in the next few days to see if you intend to remain open on the night and enquire after your advertising requirements in the brochure/PR leading up to the event.
Any other local business wishing to become involved in sponsoring prizes for competitions or, indeed, wishing to be one of the anchor sponsors for the event, is very welcome to get involved.
If you're interested in having a market stall, the cost is £5 to members of WBT and £15 to all others. Please contact me (, 01963 824822) for a booking form and details. Places are limited, so call as soon as possible if you're interested.
We're very much looking forward to seeing you all on 11 December and hope the evening helps to establish Wincanton even more firmly on the map as a town with some great shops and attractions.
Mandy Cochrane
Secretary, Wincanton Businesses Together