Wincanton's focused community website, providing news and information including a full calendar
News » Councils » Town Council » Message from the Mayor
Message from the Mayor #9 - Cole's Yard & small businesses
Friday 10 July 2020, 13:32
By Sue Shelbourn-Barrow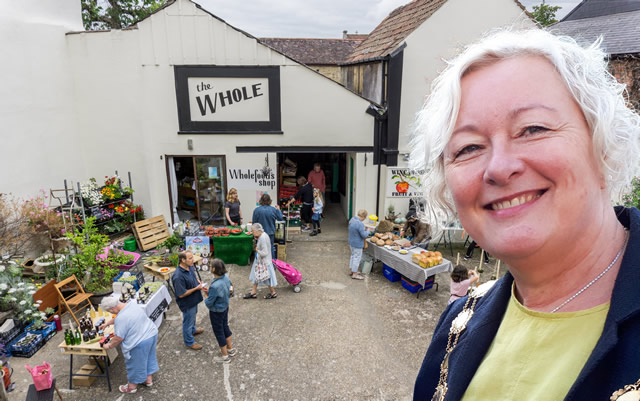 A huge "thank you" to the businesses in Cole's Yard, and other small businesses that went above and beyond to adapt and respond to lockdown during the last 100+ days.
High Street Records once again fills the air whilst the door of Saskia's Flower Essences is open once again, providing a sense of calm in these uneasy times.
In the courtyard, though, the team at Wincanton Fruit & Veg has been keeping the residents of Wincanton and surrounding villages going with weekly deliveries of fruit and veg, adding bread and milk when possible from The Lovington Bakery and The Lemon Tree deli.
It started with just a few deliveries, but at its peak a team of volunteer drivers were delivering to Penselwood, Cucklington, Bourton, Shepton Montague, Bratton Seymour, Charlton Musgrove, Holton, Templecombe, Horsington, Henstridge, South Cadbury, Marston Magna, West Camel, Bruton and Stoke Trister.
Claudia Cole tells of life in the Yard during lockdown
We were able to keep the shop open as we were classed as an essential business, for those who could come in. A large proportion of our customers were classed as needing to shield, though, so we developed the delivery service; Holly answering the phone and emails, Helen arranging the delivery process, Erin packing and Chantelle ensuring the customers got what they needed in the shop.

A huge thanks to Annette at the Balsam Centre who helped coordinate the volunteers; Lydia, Canna and George, and Joe, to name a few, who took the deliveries out every day.

Town Council members Ian and Zac both helped out with running boxes here, there and everywhere. Even customers pitched in to help bring fresh deliveries up to the Yard. It really was a huge team and town effort that will never be forgotten.

We're fortunate to work with some great local producers who were able to keep us stocked throughout lockdown. Wild Garden in Galhampton, Fenton's Farms in Horsington, surplus from local gardens, and our amazing egg suppliers, Jason and Emma from Silverthorne Farm in Milborne Wick. Oliver Dowding supplies us with Apple Juice and also got involved delivering for us and helping us unload when we had the large deliveries coming in.

Quite early on we decided we need to replicate the Fruit & Veg shop in our Gift Shop so we could pack the orders. I think the future of the high street is changing and retail will evolve, so the Gift Shop is going to evolve and we have some exciting plans for it in the next few months.

- Claudia Cole

Lockdown in Cole's Yard by Saskia of Saskia's Flower Essences
In times of crisis, small businesses come into their own. They are able to respond quickly and efficiently to their customers' needs and are, in general, more concerned with keeping their customers happy. This happened in a stunning way in Cole's Yard as the pandemic hit.

From my shop right at the end of the corridor I watched Claudia and her amazing team at Wincanton Fruit & Veg and The Whole jump into action, arranging deliveries by amazing volunteers to those in isolation. And they've continued ever since, 7 days a week, serving new and old customers at the risk of their own health.

Lovely Helen came into her own directing operations with military precision and organising volunteers including teenagers, and those who don't often have a role in our community. It was a joy to be part of, and saved the sanity of many, as well as providing first class produce even when availability became restricted.

Luckily, due to the fabulous work of our Post Office, I was able to carry on with the online side of my business, as well as hand delivering essences to those in need locally. But I'm so glad to be back in the shop to give advice in person as well as consultations. Do pop in one morning (Monday-Friday 9:30am - 1:30pm) if you want natural help with any emotional issues you might be suffering with as a result of lockdown or anything else.

Cole's Yard became the hub of the town where information was exchanged and support given, even if only in the form of a friendly smile and a kind word (and a bag of apples) and we are all looking forward to this continuing to be the case as restrictions ease.

- Saskia Marjoram
Cat's Kitchen evolves with Cole's Yard
It's funny where a blind date can lead you! Just over a year ago I met my partner and we hit it off straight away and quite shortly afterwards I moved down from Guildford to Wincanton to be with him.

Wincanton has offered me the opportunity to develop and start new businesses, this is my story.

In March Covid-19 struck. All my catering bookings disappeared overnight.

In a swift mental turnaround, I decided to do 'meals on wheels' specialising in vegetarian and vegan food. My pricing was modest and I home deliver for the locals. My meals have proved popular so another, albeit temporary business was created.

Through my relationship with Claudia from the Wincanton Fruit & Veg shop I have now embarked on a further venture: Cat's Ice Cream. The weather has been wonderful; classic ice cream weather. So far so good.

One of my customers, Sue Harvey, said, "Life -saver in lockdown: Cat's Kitchen has safely delivered homemade veggie meals so I can enjoy delicious, restaurant quality food without leaving home."

- Catherine Clark
Cole's Yard and the businesses within the courtyard have risen to the challenge of COVID-19 by continuing to deliver a service adapted to meet the needs of the customer. In these uncertain times, we have seen innovation and creativity in responding to the needs of our residents.
A big "THANK YOU" to all the businesses and individuals who have given their time for the benefit of others. Tomorrow is a new day and provides new opportunities for a new future.
Sue
Cllr Shelbourn-Barrow
---
Related articles