Wincanton's focused community website, providing news and information including a full calendar
News » Councils » Town Council » Message from the Mayor
Message from the Mayor #4 - Wincanton Town Hall offer
Friday 5 June 2020, 17:23
By Sue Shelbourn-Barrow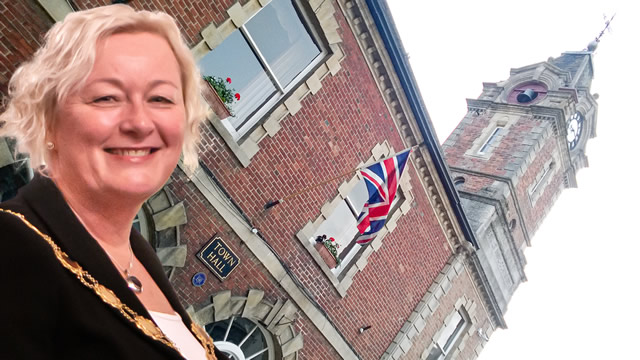 On March 23rd 2020, the Town Hall went live with the third of Wincanton's offers of support. The Town Council food parcels offer was developed to complement the Live at Home and the Balsam Centre offers to provide for those who, due to unforeseen circumstances, required a donation of food.
The management of the Town Council offer has been predominantly undertaken by Council staff; our Clerk Sam Atherton, Deputy Clerk Muriel Cairns and Steve Lee. A big "thank you" to all, as well as those volunteers who helped distribute the parcels.
Community spirit has been so evident in the Town, with the residents of Wincanton kindly donating food and money directly into the Town Hall. A big "thank you" for giving so generously to other residents in the town. Due to expiry dates, the food donations were recently distributed to the Balsam Centre for families in the town.
Lee Godwin, a Wincanton resident, secured from the Gillingham Food Bank 50 individual and 50 family food parcels. This is in addition to the food bank that many of you know is open Tuesday weekly in the Community Church on South Street for our residents to access. The food parcels are still available from the Town Hall through referral or from the Food Bank.
The Support Group - Wincanton Facebook group has provided guidance, advice and fun articles since it was created, and has raised £850 in donations from local people for local people. Thank you, Lee Godwin, and all who support this page.
Free-range eggs
St Martin's Farm in Zeals produces free-range eggs and supplies them to Andrew Barclay's shop. Charles Spencer said they wish to help those who are experiencing difficulties at this time and offered to give free-range eggs as required to then be distributed to local people, volunteers and those involved in the town's response at this difficult time.
A big "thank you" to Charles Spencer who is an active member of our community, and to Andrew Barclay who arranges collection of the eggs.
A heartfelt thank you
The Town has, yet again, stepped up and demonstrated what a strong community spirit is present in Wincanton.
In my role as Mayor, I wish to recognise all three of our town offers, Live at Home, the Balsam Centre and Wincanton Town Hall. A heartfelt thank you to all those who led and volunteered during the last 11 weeks, and to those who continue to support our town and its residents.
Over the coming weeks, we will recognise our core services such as education and care providers, Wincanton Community Hospital amongst others, and businesses in the Town that have changed their business model to support home deliveries and other great and fun ideas that make people smile.
If you would like to share a short message to say "thank you" to the people or groups mentioned above, please email it to and mark for the Mayor's attention.
Sue
Cllr Shelbourn-Barrow
---
Related articles